7 Rohingya refugees deported to Myanmar after Supreme Court refuses to intervene
Updated on Oct 04, 2018 11:44 PM IST
They seven Rohingya refugees had been held at the Silchar central prison in Cachar district since 2012 on charges of illegal entry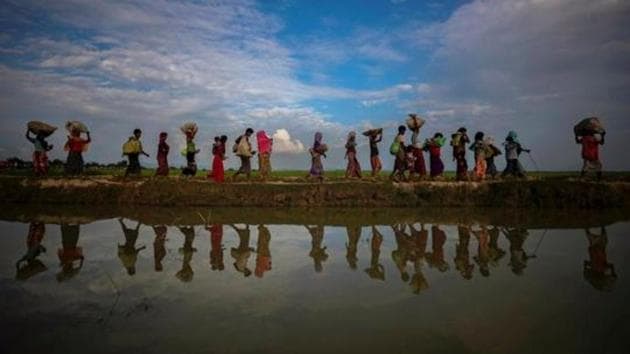 Hindustan Times, Imphal/Guwahati/New Delhi |
Sobhapati Samom and Sadiq Naqvi
Seven Myanmar nationals, believed to be Rohingya Muslims, were handed over to their country Thursday via the Manipur border after the Supreme Court refused to stop the first such deportation from India.
While no Assam government official was willing to come on record to establish their ethnicity, a top official of a Silchar jail where they were in detention on charges of being illegal immigrants had told Hindustan Times that they were Rohingyas. A ministry of external affairs (MEA) statement, too, had said that the seven were from Rakhine state in Myanmar.
Since July 2012, the seven had been held at Silchar Central Jail, which also houses a detention camp, after they were arrested for violation of the Foreigners Act. After their three-month sentence ended, imprisonment was revised to detention.
The formal handover took place at Tamu Township in Moreh, about 110 km from Manipur's capital Imphal in the afternoon. On Wednesday, the seven had been ferried from Silchar to Imphal by Assam police in two vehicles, including a Thar Jeep and a Volvo bus. They were taken to Moreh on Thursday morning.
"They were handed over to Myanmar authorities at 1.30 pm in the presence of Manipur police and Assam's Cachar district police who were accompanying them," said S Ibomcha Singh, the superintendent of police of Tengnoupal district in Manipur on the border with Myanmar.
Thursday's deportation happened after the Supreme Court on Wednesday refused to stay the move on a PIL filed by advocate Prashant Bhushan .
"We are not inclined to interfere on the decision taken," a bench led by chief justice Ranjan Gogoi said, as it dismissed the plea against the government move to hand over the seven to Myanmar.
The court's refusal came after it perused the home ministry's affidavit that the Myanmar government had accepted the seven as its citizens and agreed to provide a "certificate of identity -- a temporary travel document" to enable their return. Additional solicitor general Tushar Mehta said the seven had requested their repatriation and arrangements for their travel back were made on the request of the Myanmar embassy.
CJI Gogoi read out from the affidavit and told Bhushan that the seven had been convicted under the Foreigners Act as they were held to be illegal migrants. "They have been identified as residents of Myanmar. Now what remains," the CJI said.
Those deported were identified as Md Jamal, Mohbul Khan, Jamal Hussain, Md Yonus, Sabir Ahmed, Rahim Uddin and Md Salam.
The ministry of external affairs, reacting to queries on repatriation of the seven individuals from Rakhine, said, "In accordance with established procedures and previous precedents, and with the assistance of the MEA, the Embassy of the Union of Myanmar was able to establish the identity of these individuals as residents of that country."
The MEA statement further said the individuals had requested in 2016 that the Myanmar embassy issue them travel documents. A border organization official of the Assam Police said the form requesting travel documents was rejected because it was in English.
"It was again sent in Burmese," the official said.
The MEA said the willingness of the seven people to be repatriated was reconfirmed on October 3.
"The seven were happy," claimed a top jail official from Silchar who interacted with them. "They thanked me. They told me Allah will always be kind to me since I have helped them get out of detention," he said, adding they were able to study while in detention. "A few of them even learnt how to repair cell phones," he said. "But I do not remember anybody visiting them or any letters coming to them."
Ahead of the deportation, a UN human rights expert had expressed alarm on Wednesday. "Given the ethnic identity of the men, this is a flagrant denial of their right to protection and could amount to refoulement," said the UN Special Rapporteur on racism, Tendayi Achiume.
Hundreds of minority Rohingya refugees have been killed in the northern Rakhine province of Myanmar by the military in alleged ethnic cleansing, setting of an exodus into Bangladesh and India.
According to an Assam intelligence official, there are around 25 Rohingyas in detention in the state. There are six Rohingya in detention in Silchar.
Personalise your news feed. Follow trending topics