Supreme Court refuses to stop deportation of 7 Rohingya refugees
Updated on Oct 04, 2018 01:46 PM IST
With the Supreme Court declining to intervene, the seven Rohingya refugees are expected to be deported to Myanmar on Thursday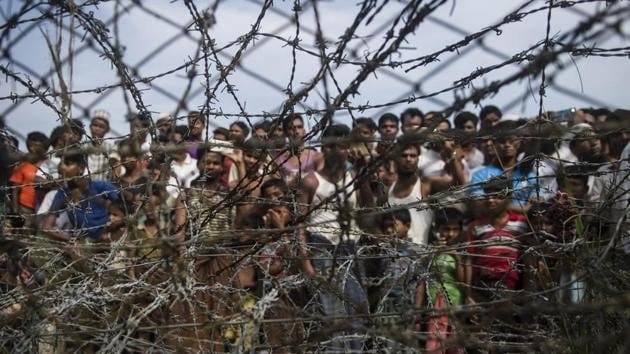 The Supreme Court on Thursday refused to stop the deportation of seven Rohingya Muslims set to be deported from Manipur to Myanmar a few hours later. This will be the first such official deportation from India to Myanmar. Lawyer Prashant Bhushan, who had sought the top court's intervention, said it is the duty of this court to protect stateless citizens, which Rohingya refugees are. The bench shot back, telling Prashant Bhushan that he need not remind the judges of their responsibilities.
Chief Justice Ranjan Gogoi, referring to the government's affidavit, said the seven had been convicted for travelling to the country without requisite papers and Myanmar also accepts them as their nationals.
In its affidavit, the Home Ministry had underlined that the seven were willing to go back to Myanmar. They were illegal migrants and had served their sentence under the Foreigners Act.
Tushar Mehta, the centre's senior law officer, told the court that the Myanmar government had acknowledged that the seven were its nationals and given them a certificate of identity to facilitate their return.
Assam has about 32 Rohingya refugees in detention camps in Assam, about 15 of them including seven minors are in Tezpur. They are mostly believed to be from the Rakhine State in Myanmar and were apprehended in 2014 by the railway police.
Thousands of Rohingya Muslims have been fleeing the Rakhine State on Myanmar's western coast for years, often caught between the military and Rohingya insurgents who have fought a bloody war for years. The refugees mostly landed in Bangladesh, but some did cross over into India also. The Indian security establishment believes there may be upwards of 40,000 refugees in India.
The UN refugee agency, the United Nations High Commissioner for Refugees, had sought access to the detained Rohingya refugees in Assam but have not been permitted.
Ahead of the deportation, a UN human rights expert had expressed alarm at the government's deportation plan saying returning the seven Rohingya refugees to Myanmar could violate international law.
"Given the ethnic identity of the men, this is a flagrant denial of their right to protection and could amount to refoulement," said the UN Special Rapporteur on racism, Tendayi Achiume.
"The Indian Government has an international legal obligation to fully acknowledge the institutionalised discrimination, persecution, hate and gross human rights violations these people have faced in their country of origin and provide them the necessary protection.
Personalise your news feed. Follow trending topics