7-year-old girl kidnapped from wedding, raped and murdered in Etah
Apr 17, 2018 08:45 PM IST
The accused took the girl away to an under-construction house, raped her and later killed her, police said. This is the latest incident of sexual assault on a minor amid outrage over the gangrape and murder of an 8-year-old in Jammu's Kathua.
A 7-year-old girl was allegedly raped and murdered by a 19-year-old man early on Tuesday during a wedding in Uttar Pradesh's Etah, police said, in the latest incident of sexual assault on a minor amid an outrage over the gangrape and murder of an 8-year-old in Jammu's Kathua.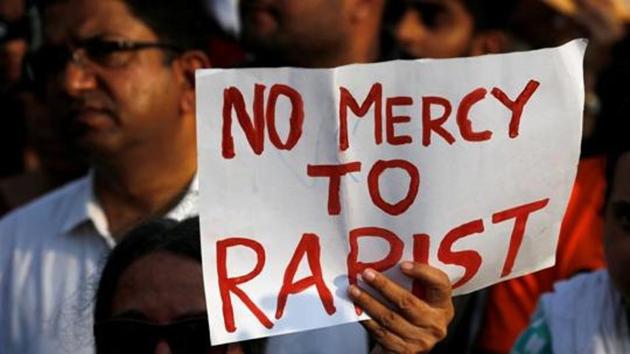 Police said the accused Sonu, who uses one name, was arrested and booked under sections 302, 376 of the Indian Penal Code (IPC). He was also charged under the stringent Protection of Children from Sexual Offences (POCSO) Act, they added. He was sent to 14-day judicial custody.
Sonu took the girl away when her family members were busy during a wedding ceremony to an under-construction house and raped her and later killed her to avoid being identified, police said.
Pankaj Mishra, the in charge of Kotwali Nagar police station of Etah, said he was arrested from the spot of the crime.
"The 7-year-old girl was attending a wedding function in front of Galla Mandi of Etah city last night (Monday night) but was found missing at about 1am on Tuesday," Mishra said.
"A search was conducted by the family members attending the function and she was found dead in an under-construction house nearby," he said.
Sonu's father provides tents for wedding functions and has a shop in Kotwali Nagar area, he added.
The post-mortem report revealed the girl died because of asphyxia and strangulation.
Irate members of the girl's family blocked a road and demanded that the accused be handed over to them. The district administration pacified the family members and assured them of strict action against the accused after which they called off the protest.
Etah district magistrate Amit Kishore said a compensation of Rs 10 lakh under Mahila Samman Fund has been handed over to the family by the district administration.
Child sexual abuse has been in focus after the gang-rape and murder of the 8-year-old girl in Jammu and Kashmir's Kathua district hit the headlines.
The incident also comes as the body of an unidentified minor girl was found in Gujarat's Surat 11 days ago and police said on Sunday it had 86 injury marks and that she may have been tortured and raped before being killed. The girl believed to be between nine and 11 years old was strangled, they said.
According to government figures, a child is sexually abused every 15 minutes in India. The National Crime Records Bureau report for 2016 shows a sharp spike in cases of rape against children with an increase of such incidents by over 82% as compared to 2015.
The data also shows that Uttar Pradesh tops the list in crime against minors, with around 15% share of total crime against children in the country.