A third front is taking shape before Rajasthan assembly elections but will it succeed?
Jaipur |
HT Correspondent
Oct 23, 2018 09:30 AM IST
The Left parties have already forged an alliance with the Samajwadi Party, Rashtriya Lok Dal and Janata Dal (Secular). The alliance is open to more parties joining it.
As Rajasthan inches closer to assembly elections to be held on December 7, a third front has begun to take shape.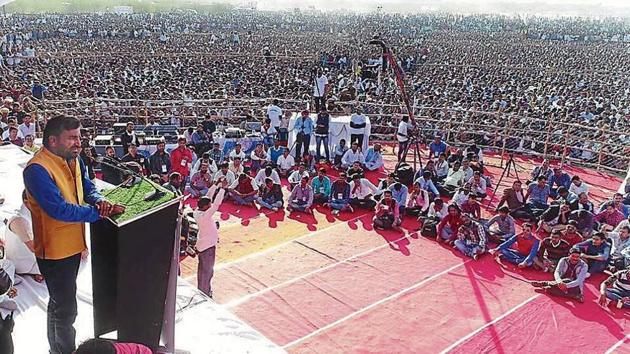 The Left parties have already forged an alliance with the Samajwadi Party, Rashtriya Lok Dal (RLD) and the Janata Dal (Secular). The alliance is open to more parties joining it to rid the state of the BJP and Congress, who, the alliance leaders say, are two sides of the same coin.
Stay tuned with breaking news on HT Channel on Facebook.
Join Now
This week will be important for the third front to take a formal and bigger shape. Jat leader Hanuman Beniwal is holding a rally in Jaipur's Mansarover area on October 29 to announce a new political party. A day before, Delhi chief minister Arvind Kejriwal will be in Jaipur's Ramlila ground to kick off the Aam Aadmi Party's campaign.
Beniwal is already in talks with Ghanshyam Tiwari, the BJP MLA from Sanganer (Jaipur), who quit the ruling party a few months ago and floated a new outfit, Bharat Vahini Party (BVP). Beniwal is popular among the Jat youth and Tiwari aims to pocket votes of 7% Brahmins in the state.
Former prime minister and JD (S) leader HD Deve Gowda announced the Rajasthan Loktantrik Morcha (RLM) in Jaipur in September first week. The forum comprises four Left parties — Communist Party of India, Communist Party of India (Marxist), Communist Party of India (Marxist-Leninist) and Marxist Communist Party of India (United) — besides the SP, RLD and JD (S).
"Both the Congress and the BJP are like two sides of the same coin. When we agitated for 13 days in September last year over demands of farmers from across the Shekhawati region, none of the Congress leaders spoke in our favour. The government gave in to our demands on September 14 and the Congress jumped in to claim credit," said Amra Ram, president of CPI (M)'s farmer body, the All India Kisan Sabha, which led the agitation.
"We are open to more parties joining the alliance to defeat the BJP and the Congress in the state," Ram added.
Beniwal said he would open channels of dialogue with the alliance and other parties after announcing a party on October 29. "It will be a historic event in Rajasthan's political history," he said, claiming that the October 29 'Maha-hunkar Rally' will be the biggest political gathering in recent past.
After the Bahujan Samajwadi Party (BSP) ruled out alliance with the Congress in Rajasthan, Beniwal and the Loktantrik Morcha are also trying to get Mayawati's party on their side.
"We have not spoken to any party in the state. Our leader Ma- yawati has said that BSP will contest on all 200 seats. If the leader gives any orders in future, we will abide by them," said BSP state president Sitaram Meghwal.
Rajasthan's political history shows the state has been a bi-polar state, with a third front never tasting success. The best show by any non-BJP, non-Congress party was in 1993, when the Janata Dal won six seats with 6.9% votes, and in 2008, when the BSP won six seats with 7.6% votes.
"Independents have been the third front in Rajasthan. In election after election, the independent candidates together formed the third front, winning an average of 10% votes," said political expert ML Yadav.
"Beniwal, Tiwari and CPM have pockets of support but whether that will convert into votes is questionable," said Jitendra Rajoria, another expert. "In 2013, Kirodi Lal Meena, then state president of National People's Party (NPEP), claimed that the assembly election will result in a hung assembly and he will be the kingmaker. That didn't happen – Kirodi barely managed to win his own seat (Lalsot) by a narrow margin of 491 votes. This proves that people of Rajasthan believe in voting either the BJP or the Congress," he added.