AAP sacks Kumar Vishwas as Rajasthan in-charge
The decision to replace Kumar Vishwas with Deepak Bajpai was taken in AAP's political affairs committee meeting held in New Delhi two days ago.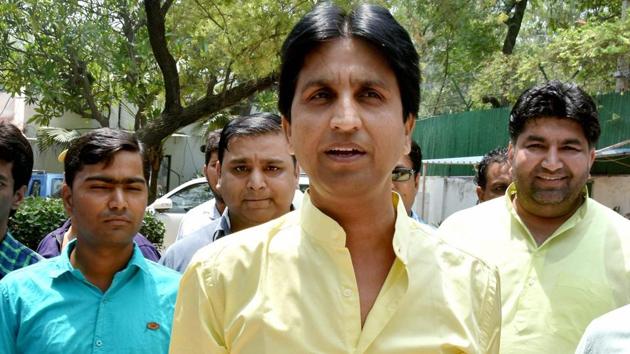 Updated on Apr 11, 2018 06:55 PM IST
The Aam Aadmi Party (AAP) on Wednesday removed Kumar Vishwas as the in charge of its unit in Rajasthan, where assembly elections are scheduled to be held at the end of this year, and replaced him with Deepak Bajpai.
"The decision to replace Kumar Vishwas with Deepak Bajpai was taken in the PAC (political affairs committee) meeting held (in New Delhi) two days ago. Vishwas was inactive for quite some time. He was not talking about Rajasthan nor visiting the state," the AAP's Rajasthan coordinator Devender Shastri said.
"Bajpai had been visiting the state regularly for nearly two months and has been doing assessment and meeting with party office-bearers," Shastri said.
"The PAC also took a decision to fight the Rajasthan polls with full strength in all the 200 constituencies," he added.
The Hindustan Times, in its January 10 issue, had mentioned about the AAP's plans to replace Vishwas because he was not taking interest in the affairs of the state unit.
AAP leader Ashutosh said while addressing a press conference in New Delhi that Bajpai will remain in Rajasthan to strengthen the party's organisation, strategise for the imminent assembly elections, and create a list of candidates.
The move did not come as a surprise for the Rajasthan unit of the AAP as the party 's leaders said Vishwas had been inactive for quite some time and his removal was expected.
Senior members of the AAP's Rajasthan unit were unhappy with Vishwas for not devoting time and resources in the state, which will go to the polls in December. While they wanted Vishwas to take an active interest in building the organisation in Rajasthan, he was keen to enter the Rajya Sabha from Delhi.
Leaders from Rajasthan wrote to Vishwas in December 2017 expressing their angst, saying that his "prolonged absence" from the state has deeply damaged the party.
The AAP decided not to contest the January Rajasthan bypolls even though party cadres wanted to field farmer leader Rampal Jat from the Alwar Lok Sabha seat. Jat subsequently filed his nomination as an Independent candidate.
Vishwas was made the Rajasthan in-charge in May 2017 as a compromise formula. Kumar has visited the state only four times since he was entrusted with the job of overseeing the party's affairs in Rajasthan, where it is also facing a severe fund crunch.
The rift among the AAP founder members came to fore again last week when Vishwas took a dig at national convenor Arvind Kejriwal after he was denied a Rajya Sabha ticket.
Vishwas did not respond to calls and text messages.
Close Story