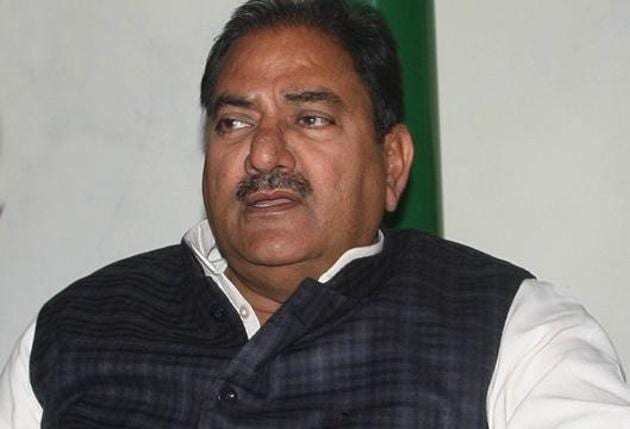 Abhay Chautala resigns as leader of Opposition in Haryana House
Speaker Kanwar Pal confirmed that he has received Abhay's letters. "I would examine these on Monday or Tuesday'', he added
PUBLISHED ON MAR 24, 2019 12:44 AM IST
Indian National Lok Dal (INLD) senior leader Abhay Chautala on Saturday resigned from the post of leader of opposition in Haryana assembly and sought disqualification of five of his MLAs for alleged anti-party acts.
The Ellenabad MLA also said he has written to the Lok Sabha speaker for disqualification of Hisar MP Dushyant Chautala, the son of his elder brother Ajay Chautala, who has floated the Jannayak Janata Party, amid a power struggle in the Chautala clan. Abhay's resignation comes two days after INLD legislator from Nalwa, Ranbir Singh Gangwa, switched his loyalty to the Bharatiya Janata Party, thus reducing the strength of the party to 16 in the 90-member Haryana House. The Congress has 17 members.
"I have written a letter to the speaker today and demanded disqualification of Gangwa as well as four other MLAs --- Naina Chautala, Anoop Dhanak, Pirthi Nambardar and Randeep Phogat — who have sided with the JJP," Abhay told reporters here.
Speaker Kanwar Pal confirmed that he has received Abhay's letters. "I would examine these on Monday or Tuesday'', he added.
Dushyant and his younger brother Digvijay were expelled from the INLD last November after their supporters had booed Abhay and party supremo Om Prakash Chautala at a rally in Gohana. This eventually resulted in Ajay and his sons floating the JJP.
With Gangwa leaving the party and four party MLAs supporting the JJP, INLD's position as the principal opposition party and Abhay's status as LOP has come under threat.
The strength of INLD MLAs had come down to 17 after the death of Jind MLA Harichand Middha and Pehowa legislator Jaswinder Singh Sandhu.
According to the Vidhan Sabha procedure, the speaker would give a notice to the five INLD MLAs and hear them out before taking a decision on their membership. In case of disqualifications, the strength of INLD in the House would nose-dive to 12.
'INLD has always bounced back'
Earlier, Abhay scoffed at opposition leaders who said "the INLD would be wiped out following the split." "The party has witnessed many desertions and betrayals in the past. But we have managed to bounce back every time. The backstabbers, however, have never returned to the Vidhan Sabha," he added.
On talks of alliance with BJP, Abhay said the INLD has not written any letter to the ruling party.
Close