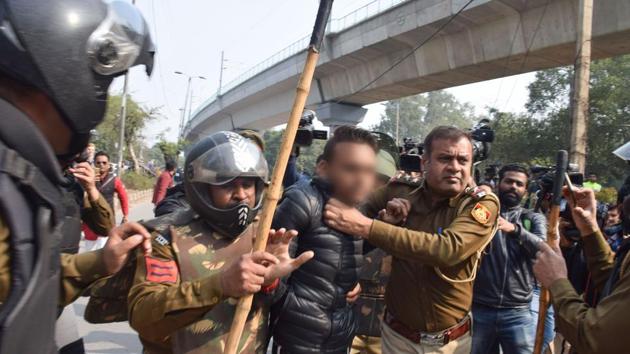 Won't spare culprit, tweets Amit Shah after firing on Jamia protester
The gun-wielding man opened fire leaving one student injured in the incident.
Hindustan Times, New Delhi | By HT Correspondent
UPDATED ON JAN 30, 2020 10:14 PM IST
Just hours after an armed youth fired at students protesting against the amended citizenship law in Delhi, home minister Amit Shah said that the "culprit will not be spared".
The gun-wielding man opened fire leaving one student injured in the incident.
"I have spoken to the Delhi Police Commissioner on the firing incident(in Jamia area) and instructed them to take strict action. The central government will not tolerate any such incident, it will be taken seriously and the culprit will not be spared," Shah tweeted in Hindi.
Reacting to the incident, Chief Minister Arvind Kejriwal urged the home minister to take care of the "deteriorating" law and order situation in Delhi.
"What is happening in Delhi? The law and order is deteriorating. Please take care of Delhi's law and order," Kejriwal said in the tweet.
The man was subsequently overpowered by police and taken into custody. The entire drama, which triggered panic in the area, was captured by television cameras that showed the man in light coloured pants and a dark jacket, walking away on an empty road barricaded by police, turning around and shouting at the protesters in Hindi, "yeh lo azaadi (Take this independence)."
The man also went live on Facebook five times from the protest site and the cover picture of his profile showed him holding a sword. The Facebook profile was deleted after screenshots of the posts were shared widely on social media.
MoS home Kiren Rijiju too underlined that nobody is above the law and anyone who breaks law will be "taken to task".
The left parties said the firing on anti-CAA protesters at Jamia is a fallout of "hate" speeches and inflammatory comments made by Union ministers and BJP leaders during campaigning for the February 8 Delhi assembly polls.
CPI general secretary D Raja said the incident is a "direct result" of the inflammatory comments made by BJP leaders.
Close