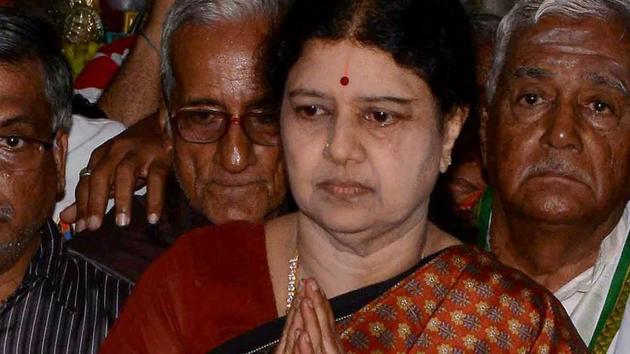 AIADMK to elect general secretary today, Sasikala unlikely to face contest for top post
The AIADMK is set to end nearly a month of speculation on Thursday after the death of their charismatic leader J Jayalalithaa by appointing her successor at an annual general meeting.
UPDATED ON DEC 29, 2016 09:26 AM IST
The AIADMK is set to end nearly a month of speculation after the death of their charismatic leader J Jayalalithaa by appointing her successor at an annual general meeting on Thursday.
The meeting, which is scheduled to start at 9.30am at the Srivaru Kalyana Mandapam in Chennai's affluent Vanagaram, is expected to conclude with the election of Sasikala Natarajan, Jayalalithaa's aide and confidante for over two decades, to the post of general secretary.
"Sasikala has the support of the party, and is capable of leading us by the example Amma set," said an AIADMK leader who did not wish to be named. "Of course, she will become our next general secretary."
Read | Sasikala, caste and cadre: After Jayalalithaa, which way will the party go?
The party will first hold a tribute to Jayalalithaa, and is expected to confer upon her a permanent post in the AIADMK, similar to Dravidian ideologue Periyar, in whose honour the post of president was abolished.
Despite having secured the almost unanimous backing of the party, Sasikala -- who has never held a public office, contested an election, or assumed a formal position of leadership within the AIADMK -- can't be assured of her victory.
A small section in the party has expressed its reservations against her elevation. She faces another challenge in Sasikala Pushpa -- the expelled Rajya Sabha MP who has filed a case in the Madras high court, saying that Jayalalithaa's aide was ineligible for the post as per party bylaws.
Stating that Sasikala had been expelled by Jayalalithaa in 2011 and reinstated in 2012, the Rajya Sabha MP said only those who have been members of the party for more than five years are eligible for the post of general secretary.
It has proven to be an unpopular move by the former MP -- on Wednesday, party cadres attacked her husband, Lingeswaran Thilagan, and their legal representative outside the AIADMK headquarters in Chennai after rumours spread that Pushpa was planning to file her nomination for the top post.
Read | Posters hailing Sasikala, Jaya's niece appear all over TN
According to party leader and spokesperson C Saraswati, Pushpa had been warned by the police not to go to the headquarters so as to avoid provoking the party workers. "The cadres were already wounded by all the things she has been saying about Amma," said Saraswati. "Her advocate challenged them, hence they fought back."
Saraswati also dismissed the possibility of Pushpa filing a nomination. "Amma made her a mayor and a Rajya Sabha MP, and Amma also removed her from the party. How can she stand for general secretary if she is no longer a member of the AIADMK?"
The party has consistently promoted Sasikala, who is called "Chinnamma (Little Mother)" by supporters, as being the only possible choice to lead the AIADMK in the aftermath of Jayalalithaa's death on December 5.
Officials -- ranging from district secretaries to chief minister O Panneerselvam -- have been routinely meeting Sasikala at Poes Garden, the residence she shared with Jayalalithaa for more than two decades.
It's unlikely, however, that Sasikala will be present at the general meeting. Sources in the party said she has been advised to not appear until she is formally elected as general secretary.
Read | After Amma, all eyes on Sasikala Natarajan and her Mannargudi family
"It is simply a matter of Chinnamma accepting our wishes," said Saraswati.
But her absence could also be a move to avoid complication with the cadres, many of whom despise her and her family.
"It's clear Sasikala is calling the shots now," said Professor Ramu Manivannan, head of the politics department at the University of Madras. "But what's interesting is that a significant percentage of the cadres are against her."
Experts are also unconvinced that Sasikala wanted to assume a more public position. "The party had no choice in pushing her forward," said political analyst Gnani Sankaran. "What she wants is a different matter."
With O Panneerselvam elected chief minister, a few hours before Jayalalithaa was officially declared dead, many experts suspect that Sasikala may have an eye on the CM seat.
However, the Centre has repeatedly expressed its support for O Panneerselvam. "Union minister Venkiah Naidu has said that we support OPS," said a Tamil Nadu BJP leader.
Read | Tamil Nadu after Jaya an opportunity, but cashing in will be tough for BJP, Cong
Close