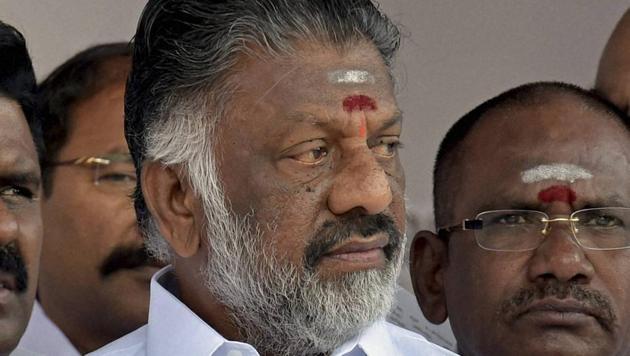 All eyes on CM Panneerselvam after ex TN-chief secy's attack
Rival political leaders have already demanded that Paneerselvam reply to Rao's statements.
UPDATED ON DEC 27, 2016 05:06 PM IST
All eyes are firmly on Tamil Nadu chief minister O Panneerselvam after the state's former chief secretary P Rama Mohan Rao on Tuesday lashed out at the state government and the income tax department, describing the raids on his office as a "constitutional assault".
Panneerselvam has maintained a studied silence since the December 21 raids, which sent shockwaves across the state's officialdom, something that experts believe shows how weak his position is.
"He has been silent throughout his entire career. It's what allowed him to survive for so long," Ramu Manivannan, head of the department of politics at the University of Madras, said.
"Nonetheless it's important he speaks as a chief minister to respond to Rao's allegations, which themselves are an unprecedented breach of the professional code for bureaucrats," Manivannan added.
Rao stated emphatically that he was "still the chief secretary" during Tuesday's press conference, despite the swift appointment of veteran Indian Administrative Service officer Girija Vaidyanathan on December 22, barely hours after the I-T department concluded their raids on the houses of Rao and his family.
"This government hasn't the guts to send me a copy of the transfer order. I was appointed and nurtured as the chief secretary by honourable Puratchi Thalaivi Amma (former CM J Jayalalithaa)," the tainted officer said.
Rao's home and office were raided by the I-T department on December 21 as part of their ongoing investigation against his son, Vivek Rao, a software engineer who is suspected of tax avoidance.
Rival political leaders have already demanded that Paneerselvam reply to Rao's statements.
"There is clearly something behind his words. The chief minister must explain why Rao believes he is still chief secretary," DMK leader MK Stalin said.
While Panneerselvam is infamous for his reticence, Manivannan said that his current silence clearly shows someone else is in charge.
"It's clear that Sasikala is calling the shots. OPS (as Panneerselvam is known in Tamil Nadu) is in a very weak position. He is CM and all of his fellow ministers are supporting another candidate for the post of general secretary," he said.
Jayalalithaa and her mentor MG Ramachandran both held the position of the chief minister as well the AIADMK general secretary, ensuring their complete control over the affairs of not only the state but the party as well. The AIADMK has no president in honour of the Dravidian ideologue Periyar.
The AIADMK is set to conduct its general meeting on December 29, where Sasikala Natarajan, Jayalalithaa's long-term aide, is expected to be elected unopposed as general secretary.
It remains to be seen whether Sasikala, who is also a co-accused in the DA case which plagued the late Jayalalithaa for more than two decades, will try to replace Panneerselvam.
"The party leaders all support her. She can help lead us in the same manner as Puratchi Thalaivi Amma did," a senior AIADMK leader, who wished to remain anonymous, said.
Close