Alwar lynching: Villagers call off stir as govt announces Rs 5 lakh compensation for victim's family
Jul 23, 2018 07:18 AM IST
The Haryana government has announced a Rs 5 lakh compensation for the family of Rakbar Khan who was lynched over claims that he was smuggling two cows.
Relatives of Rakbar Khan, who was "lynched" by a mob in Rajasthan's Alwar district in the name of cow late on Friday night, have called off the protest even as the Haryana government announced a compensation of Rs 5 lakh for his family.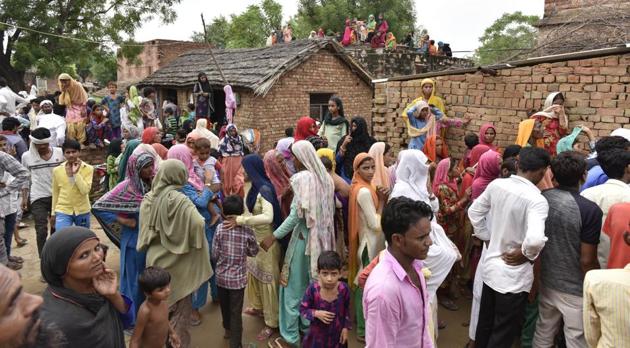 Protesting the murder, villagers in Kolgaon had placed Rakbar's body on the Delhi-Alwar highway demanding the arrest of all the accused, financial support for his family and a government job for Asmina, Rakbar's wife. Rakbar was the sole earning member in the family.
"The protest was called off after the district administration assured the villagers that their demands will be met. Rakbar was laid to rest in a graveyard 150 metres from his house," deputy superintendent of police Brahm Singh said.
"We agreed to bury Rakbar's body only after the police gave us assurance and the sub-divisional magistrate assured that the family would be compensated. He (Rakbar) was the sole breadwinner and his family is left to feed for itself without any support," brother Akbar said.
The family members, accompanied by several villagers, had held several rounds of meetings with the district administration and the Mewat police, in presence of local politicians, before the protest was called off.
"A few villagers wanted the protest to continue," said Liyaqat Ali Khan, a school teacher in Kolgaon village.
"We took prompt action after getting information that villagers are planning to hold the protest and block the road," Nazneen Bhasin, Nuh SP said.