Man beaten to death by mob on suspicion of cow smuggling in Rajasthan's Alwar; 2 arrested
Hindustan Times, Alwar |
Jaykishan Sharma
Jul 21, 2018 11:25 PM IST
Rajasthan chief minister Vasundhara Raje assured strict action against those who attacked the man, who was transporting cattle to Haryana.
A 31-year-old man was allegedly beaten to death on Friday night by suspected cow vigilantes in Rajasthan's Alwar district, where three people engaged in the cattle trade had already been killed since April last year.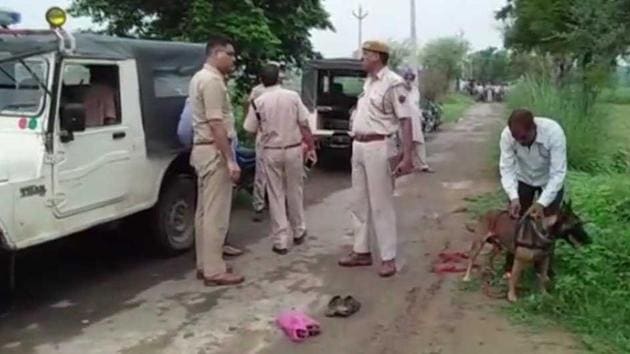 Two people suspected to be involved in the killing, which was condemned by political parties, have been arrested.
The incident, which triggered tension in the region, took place just four days after the Supreme Court slammed the Central and state governments for failing to prevent frequent lynchings, terming them "horrendous acts of mobocracy," and issued a slew of directions to tackle them.
Two men identified as Rakbar Khan and Aslam, residents of Kol village in Haryana's Mewat region, were herding two cows when they were stopped in Lalavandi village of Ramgarh tehsil in Alwar around midnight and assaulted by a group of men, the police said.
"Khan and his Aslam were going to their village on foot through Lalavdi when some people stopped them and thrashed them, accusing them of being cow smugglers," said inspector general of police (Jaipur range) Hemant Priyadarshani .
Khan was brutally beaten but Aslam managed to escape, said Alwar's additional superintendent of police Anil Beniwal. Some locals informed the police, which reached the spot, and found Khan lying injured in a muddy field with the two cows standing next to him.
Khan died on his way to Alwar hospital and his post-mortem examination revealed that the cause of death was internal bleeding caused by beating, police said. His father Sulamain Mev said Rakbar used to work as a labourer in a local stonemine and had left home on Friday morning with Aslam with some goats. "Police told us about his death today morning," he said.
On Saturday evening, villagers took 31-year-old Rakbar Khan's body from the graveyard to the Delhi-Alwar highway and placed it on the road in protest. They demanded a government job for the wife and prompt action and arrest of the suspects. "The family doesn't want to bury him till a strong action is taken against the accused. His body has been kept on the highway for now," said Liyaqat Ali Khan, a school teacher in Kolgaon village. Deputy superintendent of police Brahm Singh said the situation was under control.
"About 90 police personnel were deployed after the body was taken to the village. A rapid action force team was also called to the spot and was deployed near the house," Singh said.
Priyadarshani said two persons identified as Dharmendra Yadav and Paramjeet Singh Sardar were arrested on the basis of testimony by locals. "They (the accused) were associated with the local unit of Shiv Sena and suspected the two to be cow smugglers," said a local villager, who didn't want to be named. The IG said the police was investigating their links with any right-wing organisations.
Chief minister Vasundhara Raje condemned the incident and said the "strictest possible action shall be taken against the perpetrators."
Congress leader and former Rajasthan chief minister Ashok Gehlot slammed the Raje government for its failure to put an end to such "heinous crimes" despite Supreme Court warnings and instructions. Rajasthan Congress chief Sachin Pilot said the killing of people on mere 'suspicion' is sadly becoming the norm in Bharatiya Janata Party (BJP)-ruled states and added that the home minister Rajnath Singh's words in Parliament about state governments' responsibility in stopping mob lynching seem even more hollow now.
Union minister and senior BJP leader Arjun Ram Meghwal sparked a controversy by saying the Alwar lynching was related to Prime Minister Narendra Modi's rising popularity and the more popular he becomes the more such incidents would take place. In April 2017, Muslim trader Pehlu Khan was beaten to death allegedly by cow vigilantes while transporting cows purchased from Jaipur to his home in Nuh in Haryana. A group of men transporting cows in November last were reportedly attacked in the same district allegedly by cow vigilantes, resulting in the death of a man identified as Umar Mohammed. A month later, Taleem Khan, an alleged cow smuggler, was killed in a shootout with police.
The Alwar and Bharatpur region of Rajasthan is said to be hotbed of cow smuggling to alleged illegal slaughter houses in Haryana. The government has established police outposts in the area to prevent cow smuggling. Self-styled cow protection groups too are active in the region and carry out night patrols to thwart cow smuggling attempts.
(With inputs from Leena Dhankar in Gurugram)