Amethi admn asks Rahul Gandhi to reschedule visit; Cong says Yogi govt 'scared'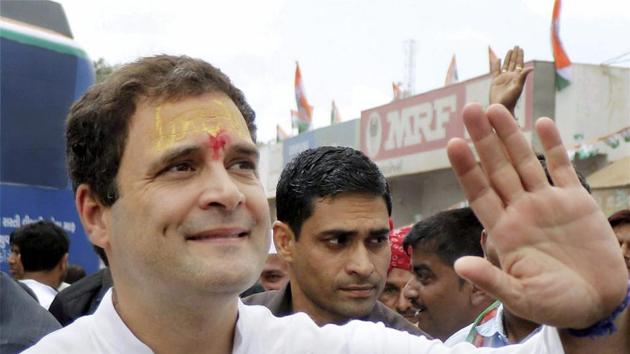 Updated on Oct 01, 2017 06:43 PM IST
Press Trust of India | By Press Trust of India
, Lucknow
The Amethi district authorities have asked Congress vice-president Rahul Gandhi to re-schedule his proposed visit to his Lok Sabha constituency on law-and-order grounds, leaving the opposition party fuming and the BJP making a counter-attack.
Gandhi is scheduled to visit Amethi from October 4-6.
"In order to maintain law-and-order, a majority of the district police force will be on duty. Hence, there will be great inconvenience in maintaining peace. Therefore, it is requested that the tour be rescheduled on any date after October 5," a letter written by the Amethi administration to the district Congress chief said.
The letter, signed by district magistrate Yogesh Kumar and Superintendent of Police Poonam, added, "Through a letter (dated September 30), it was informed that a visit of MP Rahul Gandhi is proposed from October 4 to October 6. However, on October 5, Durga Puja/Dussehra and Muharram will culminate at several places."
Reacting sharply to the letter, senior Uttar Pradesh Congress leader Akhilesh Singh accused the Yogi Adityanath-led BJP government in the state of "using tactics" to stop Gandhi from visiting his Lok Sabha constituency.
"The Uttar Pradesh government is worried and does not want Rahul to visit Amethi, fearing that he might raise issues directly related to the public. This scares the BJP," he said.
Singh added that the Yogi government was perhaps worried that Gandhi's schedule might "eclipse" the proposed visit by BJP chief Amit Shah and Union ministers Smriti Irani and Nitin Gadkari to Amethi on October 10.
Refuting the grounds on which the authorities have asked the Congress vice-president to re-schedule his visit, Singh told PTI that by October 4, almost all the festivities would be over.
"After all, Rahul is visiting his own parliamentary constituency," he pointed out.
Hitting out at the Congress, state BJP spokesperson Rakesh Tripathi said, "As an elected MP, Rahul has failed to work for his people and many of the development schemes promised by him are lying incomplete."
Taking a dig at the Gandhi scion, he said "missing" posters of the Congress leader had been put up in Amethi in the past.
"That is why, (Smriti) Irani has taken the initiative to start those projects in Amethi," said Tripathi.
Union minister Irani had unsuccessfully contested the 2014 Lok Sabha election from Amethi against Gandhi.
Close Story