Amit Shah communalising Tipu Jayanti ahead of polls: Karnataka CM
Updated on Nov 03, 2017 03:46 PM IST
Amit Shah had flayed the Tipu Jayanti celebrations, accusing the Siddaramaiah government of practising "vote bank politics".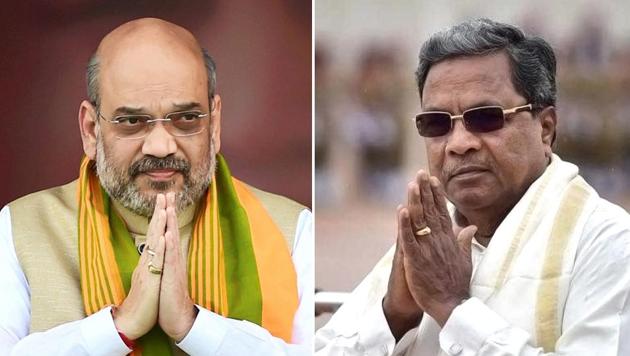 Press Trust of India, Bengaluru |
Press Trust of India
Karnataka chief minister Siddaramaiah hit back on Friday at BJP chief Amit Shah for attacking his government for celebrating Tipu Jayanti and accused him of making a "desperate attempt" to communalise the situation ahead of the state assembly polls.
A day after coming under fire by the BJP chief at a rally in Bengaluru, Siddaramaiah said the assembly election has brought "tourists like Shah" who display ignorance about the state.
"We celebrate birthdays of 26 leaders & builders of #NavaKarnataka. @AmitShah in a desperate attempt to communalise, picks on Tipu Jayanthi," Siddaramaiah said in a tweet.
"Election is coming! It brings tourists like @AmitShah who display ignorance about our state & call #KannadaRajyotsava as 'Karnatak Mahotsav'," he said.
Flagging off a 75-day statewide yatra spearheaded by BJP state mascot BS Yeddyurappa at a rally on Thursday, Shah flayed the Tipu Jayanti celebrations, accusing the Siddaramaiah government of practising "vote bank politics".
"Yesterday (Wednesday), was November 1. It was Karnataka's formation day. Karnataka Mahotsav (Rajyotsava) celebrations had to happen with grandeur, but Siddaramaiah government had no interest in Karnataka Mahotsava, they are more enthusiastic towards celebrating Tipu Jayanti on November 10," he had said.
In a series of tweets in Kannada, Siddaramaiah defended the Tipu Jayanti celebrations.
"People of the state have accepted Tipu Jayanti. Tipu was a patriot. He was not against Hindus or any other community," he said on Twitter.
Siddaramaiah also took a jibe at state BJP leaders, alleging they had once described Tipu Sultan as a freedom fighter but had become "enlightened" after learning lessons from Shah.
He claimed the BJP yatra was a failure on the very first day, proving that the people were not with the party.
The BJP has been opposing the event as it sees Tipu Sultan, the 18th century ruler of erstwhile Mysore kingdom, as a "brutal killer" and a"religious bigot" who converted people to Islam.
Assembly elections are due in Karnataka early next year in which the BJP is hoping to capture power, unseating the government led by Siddaramaiah.
Making history, the BJP had installed its first-ever government in the south in 2008 before losing power to the Congress.