Anti-drought projects under rural job scheme incomplete, abandoned
Several districts in central, east and peninsular India are staring at extreme arid conditions after the India Meteorological Department last week predicted 22% deficiency in pre-monsoon showers between March and May.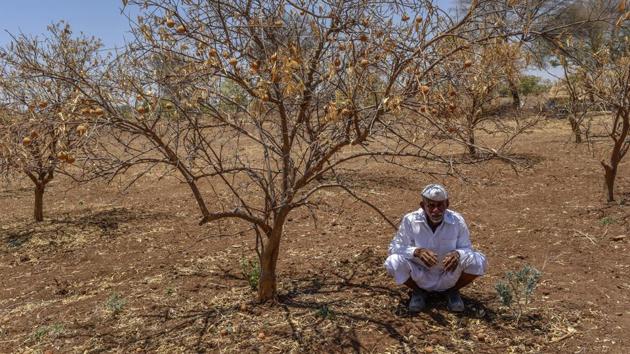 Updated on May 29, 2019 02:27 PM IST
Hindustan Times, New Delhi |
Jayashree Nandi
A very large number of anti-drought projects of water harvesting, plantation or micro irrigation that have been taken up in many states in the past few years under the flagship Mahatma Gandhi National Rural Employment Gurantee Scheme (MGNREGS) either remain incomplete or have been abandoned, government data shows.
With a 22% deficiency in the pre-monsoon showers between March and May and El Nino shadow looming over the monsoon season, several districts in central, east and peninsular India are staring at extreme arid conditions.
El Nino is a weather phenomenon characterised by warm ocean temperatures in the equatorial Pacific Ocean that is associated with poor rainfall and more heat waves in the subcontinent.
Nationally, about 7.9 lakh works costing ₹417 crore are incomplete or suspended; only about 27,000 works have been completed so far, according to data collated by the ministry of rural development, which monitors implementation of the MGNREGS.
A similar trend can be noticed in aridity-prone states. For example, in Karnataka only 371 drought-proofing works are complete while 19,965 are still incomplete. In Maharashtra, 2038 works are complete as on May 20, 2019 while 79,788 remain incomplete, the data shows.
"It's very difficult to say during which period these works have been taken up or completed because they are constantly being carried forward. Every state is different. The implementation depends on careful monitoring on ground on whether these are being delivered. There are many local issues which also influence implementation," said a senior official of the ministry of rural development.
The MIS data also shows that there is little focus on anti-drought measures, including water conservation, revival of traditional waterbodies, plantation and micro irrigation works, despite grim forecast by meteorologists for these states.
Last week, private forecaster Skymet Weather released a list of districts that are at risk of drought or extreme aridity this year. Even these districts showed little focus on drought-proofing works, according to the ministry data.
For example, in Maharashtra's Vidarbha region, there is much more focus on works on private lands than community drought-proofing or water harvesting projects. In Amravati for example, 89 community drought proofing works are complete, 5,875 are incomplete or suspended. In contrast, as many as 2,117 works on individual lands have been completed and 17, 983 are incomplete.
Over 5.9 lakh works on private lands have been completed and 68 lakh are ongoing across the country.
"In the last few years, very few works have been taken up on community land. If you look at the infrastructure works on individual or private land they are far higher. It may be because more paperwork is involved in starting community level projects," said Pranjal Dhanda who works with TATA Trust in Jharkhand.
On a macro level, the lack of focus on large community level works and a large number of incomplete projects can be linked to three issues that have been plaguing the job guarantee scheme, Rajendran Narayanan, assistant professor, Azim Premji University claimed. These are inadequate fund allocation, delayed payment of wages and low wages [lower than the minimum wages determined by many states].
"To exactly find out the person-days [based on an ideal amount of work done by one person in one working day] in drought affected areas, one has to do a detailed analysis but the national picture is grim. The national average is only about 50 days per year, half of the guaranteed [100 days of work under NREGS]," he said.
"Let's look at Rajasthan where in November 2018, the person-days of work generated was 1.5 crore person-days. In February 2019, after the government changed, this has increased by 3 times to 4.2 crore person-days. The Rajasthan state government generated a lot of employment through their 'Kaam Maango Abhiyan'. So if there is political and bureaucratic will, then more employment can be generated," Narayanan added.
Citing research, NH Ravindranath, a climate scientist at the Indian Institute of Science (IISc), said NREGS is one of the best programmes for drought years.
"It can build resilience to climate change impacts with soil and water conservation measures. We have seen that large community level works are much more sustainable and valuable to the village. It's unfortunate that the scheme is not utilized. It's supposed to be a scheme with bottom-up decision making but often that doesn't happen. The panchayat or junior engineers often decide for the villagers. I think there is a need to empower villager with information on what helps," said Ravindranath.
A few days ago, the India Meteorological Department said, El Nino conditions are persisting which may continue till July. In El Nino years, monsoon is usually weak and more episodes of heat waves are recorded in India. Last year, monsoon was below normal at 91% of long period average.
(The reporter is a recipient of the Promise of Commons Media Fellowship 2019, on the potential of MGNREGA scheme.)
Work status during the financial year 2019-2020 in vulnerable districts:
Drought proofing:
Chhatarpur, Madhya Pradesh: 1 complete, 853 incomplete
Jhansi, Uttar Pradesh: 0 complete, 933 incomplete
Gadag, Karnataka: 15 complete, 884 incomplete
Dharwad, Karnataka: 1 complete, 871 incomplete
Palamu, Jharkhand: 0 complete, 18 incomplete
Chittoor, Andhra Pradesh: 16 complete, 3066 incomplete
Medak, Telengana: 264 complete, 5765 incomplete
Krishnagiri,Tamil Nadu: 3 complete, 288 incomplete
Yavatmal, Maharashtra: 17 complete, 2746 incomplete
Water harvesting works:
Chhatarpur, Madhya Pradesh: 3 complete, 765 incomplete
Jhansi, Uttar Pradesh: 6 complete, 1283 incomplete
Gadag, Karnataka: 4 complete, 2654 incomplete
Dharwad, Karnataka:43 complete, 375 incomplete
Palamu, Jharkhand: 24 complete, 257 incomplete
Chittoor, Andhra Pradesh: 49 complete, 4906 incomplete
Medak, Telengana: 21 complete, 1032 incomplete
Krishnagiri,Tamil Nadu: 53 complete, 2039 incomplete
Yavatmal, Maharashtra: 41 complete, 1329 incomplete
Close Story
Personalise your news feed. Follow trending topics