Anti-Hindi movement re-surfaces in Bengal, leader says BJP's rise a threat to regional languages
Published on Jul 06, 2018 07:33 PM IST
Bangla Pokkho, which has opened units in 10 districts of West Bengal over the past couple of months, has already forced government departments and organisations to take up Bengali or support the language.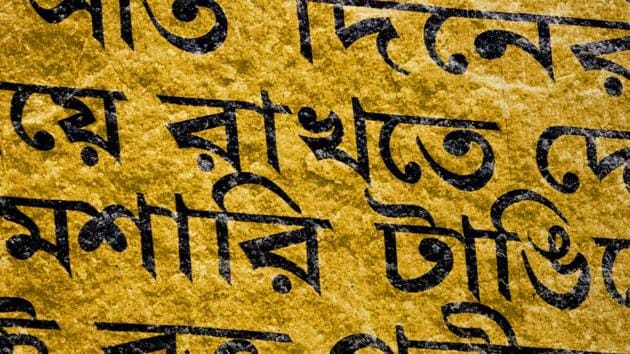 A Bengali rights group against "Hindi imperialism" is fast gaining influence in West Bengal and has had some early success in furthering its ideology.
Bangla Pokkho draws inspiration from the anti-Urdu movement in East Pakistan (now Bangladesh) during the late 1960s and early 1970s and the anti-Hindi movements in the southern states of Tamil Nadu and Karnataka.
"We are not against any language. We are against the Union government's ploy to impose Hindi upon non-Hindi speaking people," Garga Chatterjee, who is spearheading the movement, said.
He is an assistant professor at the Indian Statistical Institute (ISI) in Kolkata and leads its Ghilu (brain) Lab.
The group is strongly opposed to the line 'Hindi hain hum, watan hai Hindustan humara' from the song Sare Jahan Se Achha. Its activists have torn stickers in railways coaches with the line printed on them.
"We are not Hindi. We are Bengali. Our nation is called India and Bharat. Hindustan is not written anywhere in the Constitution. Hindustan refers to north India," Chatterjee, a vocal supporter of the ruling Trinamool Congress, said.
The group took its first steps in the immediate aftermath of the saffron camp's unprecedented Ram Navami and Hanuman Jayanti celebration in 2017 when many processions with weapons were taken out in West Bengal.
"The BJP's rise at the Centre and in West Bengal had a direct impact on our movement. The saffron camp's slogan of 'Hindi-Hindu-Hindustan' poses the biggest threat for Bengal," Anirban Banerjee, an active member of the group and a lawyer practising in Calcutta high court, said.
The Trinamool has not officially spoken in favour of the group, presumably because it does not want to antagonise Hindi-speaking voters, a significant chunk of Bangla Pokkho members are supporters of the ruling party.
"Trinamool belongs to Bengal. CPI(M) belongs to Bengal. But the BJP does not belong to Bengal," Chatterjee said.
He admitted that their movement would at this moment help Trinamool but stressed that CPI(M) supporters were also part of the group.
Last year when the BJP stepped up its campaign against infiltration from Bangladesh, which it said was changing the Hindu-majority character of West Bengal, Bangla Pokkho countered it by saying that "infiltration from north India' is harming the state's linguistic character".
Bangla Pokkho, which has opened units in 10 of the state's 23 districts over the past couple of months, has already forced government departments and organisations to take up Bengali or support the language.
Kolkata Metro Railways authorities introduced Bengali in smart cards in April after protests by the group's members, who were also supported by independent Rajya Sabha MP Ritabrata Banerjee.
Soon after, it bombarded Kolkata Police with emails and social media messages, protesting the department's decision of putting up signboards in Urdu and Hindi in non-Bengali speaking areas. It demanded Bengali cannot be excluded from any state government notice or campaign.
The police wrote back saying Bengali is and will be their principal language of communication.
The latest success came in June, when the Union ministry of human resource development-run Indian Institute of Science Education and Research (IISER), situated in Nadia district, withdrew its notification that said knowledge of Hindi was mandatory for applying for teaching and non-teaching positions after activists launched cyber campaign and agitated outside the office.
"Imposition of Hindi on non-Hindi speaking states has a clear economic agenda – it is to ensure Hindi speaking people get an advantage in national level exams and government jobs," said Bangla Pokkho activist Rehan Amin.
"If Bengali is not used in Uttar Pradesh and Haryana, why should Hindi and Urdu be used in Bengal?" Amin, a resident of Howrah who runs a coaching centre, asked.
This is not the first Bengali rights movement in the state.
The Amra Bangalee movement by the Ananda Marg group gained some influence during the 1980s and regained its hold in north Bengal in 2008 when the Gorkhaland movement resumed.
In early 2000, poet-novelist Sunil Gangopadhyay led a movement for making Bengali mandatory on signboards of every business establishment in Bengal.
Bangla Pokkho's movement, however, is different in nature and is primarily directed against "the culture of Hindi heartland".
The group has already opened a science wing to popularise science writing in Bengali and a legal wing is in the making. They are also planning a "business/entrepreneurship wing" to teach Bengali speaking youth the intrigues of winning tenders.
In June, the group's West Burdwan unit staged a demonstration at the office of the National Highways Authority of India, protesting the disappearance of Bengali from the signboards along national highways in the state. They are planning to move court if Bengali is not reintroduced in highway signs within a couple of months.
The group criticised chief minister Mamata Banerjee's political speech in Hindi in New Delhi and also for delivering Eid message in Urdu. It also pulled her up her for saying 'Hindi hain hum, watan hai Hindustan humara'.
It opposed CPI(M)'s demand for introducing Hindi and Urdu as the medium for the written examination, currently held in Bengali and Nepali, for recruiting police constables. The state board's decision to print the question papers of the higher secondary exams in Hindi was also criticised by the group.
It has demanded Bengali, Nepali, Olchiki and Rajbanshi should be the languages of instruction, learning and exams in the state Bengal.