Anybody can become Bihar CM in 2020, our alliance with BJP not JD(U): Upendra Kushwaha
Maintaining that RLSP did not have any alliance with the JD(U) so far, Kushwaha said the alliance was stitched in 2014 among the BJP, LJP and his party.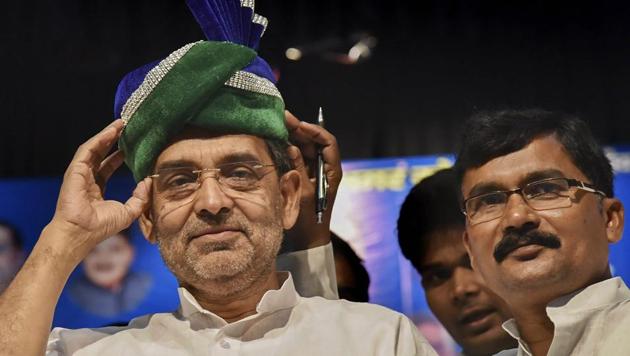 Updated on Nov 09, 2018 11:21 PM IST
Upping the ante, Rashtriya Lok Samata Party (RLSP) chief and Union minister Upendra Kushwaha on Friday said anyone could become the chief minister of Bihar after the 2020 Bihar assembly elections.
"In a democracy, even a commoner can don the chair of chief minister. That is the beauty of democracy," he told reporters at the RLSP office in Patna while announcing the party's programmes from November 28, the death anniversary of Jyotirao Phule, a social activist, thinker and social reformer.
Kushwaha also made it clear that his party's alliance was with the Bharatiya Janata Party (BJP) and not with Bihar chief minister Nitish Kumar-led Janata Dal (United).
The RLSP, JD(U) and the BJP are partners in the National Democratic Alliance (NDA). Kushwaha had on October 31 created a furore when he said that Kumar had confided in him that he (Kumar) did not want to continue as chief minister beyond 2020. However, the JD(U) immediately trashed the remark, saying "the CM's chair is no rasgulla and it is decided by people's choice".
Kumar had also responded curtly to a question from reporters in Patna on Kushwaha's claim, saying "Baatchit ka star itna neeche mat giraeeye (don't allow the level of debate to stoop so low)."
Kushwaha had taken it as a personal insult and hit back at Kumar, saying he had been hurt by Nitish's remark, which, he said, referred to him as neech (of low ranking).
"We will observe Jyotirao Phule's death anniversary as 'Unch-Neech Mansikta Virodh Diwas' (against high-and-low mindset day) as the great revolutionary had struggled to eradicate the mindset of 'high and low' in the society and fought against societal injustice and inequality," Kushwaha said, clearly stating that he was 'deeply hurt' by the statement of Kumar.
Though a video clip of Kumar's statement has been released to clear the air that he did not use the word 'neech' against anyone, Kushwaha said it would not suffice.
"The CM must clarify in public what exactly he meant by what he said. It is a political issue and he must take it back in his own interest. It will only enhance his image. I treat him like elder brother and it was shocking for me for the way he treated me," he added.
The RLSP chief said the seat-sharing formula in the NDA in Bihar would be announced officially only after consultations with all the partners.
"I am not like the JD(U) which comes and goes as per convenience. I had stitched an alliance with the BJP even before Narendra Modi was officially announced the prime ministerial candidate. The BJP will make the announcement after looking into all aspects. If the announcements were to be made in 2-3 days, it would have happened by now," he said.
Making light of the 50-50 deal between the BJP and the JD(U), Kushwaha said it did not matter much, as it could also mean 15-15, leaving five each for the RLSP and Ram Vilas Paswan-led Lok Janshakti Party (LJJP).
"If RLSP had contested on three seats in 2014 and its strength has grown by whatever margin, it has claim on more than three seats. I am hopeful of healthy talks on seat-sharing with the BJP," he said, ruling out possibility of RLSP's shift towards UPA.
On speculations if RLSP's claim had stalled cabinet expansion in Bihar, Kushwaha said the time was up for it. "I had said in the larger context as RLSP was expected to make sacrifice to accommodate JD(U). Why it was not taken care of earlier? RLSP is not used to eating stale rice," he remarked.
Maintaining that RLSP did not have any alliance with the JD(U) so far, Kushwaha said the alliance was stitched in 2014 among the BJP, LJP and his party.
"For broadening any alliance in the state, BJP will take the lead for talks by involving all stakeholders," he said, adding right now the main focus of the party was on the next stage of campaign on the issue of education, as that remained a major challenge in Bihar.
"We had earlier campaigned for representation of all sections of the society in higher judiciary and issues of education. Now, our campaign is on the need for improvement in the education sector. It is not a political issue. Education is the only way to eradicate all the evils and unfortunately is in a shambles in the state — be it school education or higher education. Today, schools and colleges lack teachers and there is a question mark over their quality," he said.
Close Story
Personalise your news feed. Follow trending topics