Caste census refers to caste-based tabulation in the census.

Attempts by the DM and Railway DSP Imran Parvez to persuade the agitators to call off their agitation yielded no result, and as night descended, they began preparing meals on the tracks in a clear indication of their reluctance to back off.

"Altogether 33 people were killed in incidents related to the thunderstorm that began on Thursday afternoon and continued raging for a few hours," a statement issued by the office of Bihar chief minister Nitish Kumar said.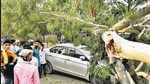 In Assam, according to the state disaster management authority, over 3.36 lakh people have been affected in the Nagaon district followed by 1.66 lakh in the Cachar district, 1.11 lakh in Hojai, and 52,709 in the Darrang district.

By
HT News Desk
| Written by Kanishka Singharia | Edited by Swati Bhasin
Congress leader Rahul Gandhi had said that the regional parties have their place, but they cannot defeat BJP because they don't have an ideology.