Why raise anti-Pakistan slogans in Muslim areas of Kasganj? Bareilly DM protests
Updated on Jan 30, 2018 05:03 PM IST
As per preliminary investigation, the Kasganj clashes broke out when a group of youth took out a 'Tiranga Yatra' in the Muslim-dominated Baddu Nagar area on Republic Day.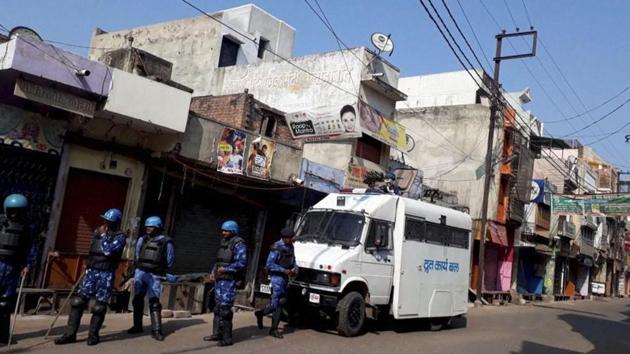 The district magistrate of Uttar Pradesh's Bareilly has created a stir with a post on Facebook, saying there is a growing trend of people taking out processions in areas where Muslims live and raising slogans against Pakistan, referring to the recent communal violence in Kasganj.
"Ajab riwaz ban gaya hai. Muslim mohallo main julus le jao aur Pakistan murdabad ke nare lagao. Kyun bhai woh Pakistani hain kya? (A strange tradition has been formed. To visit Muslim areas and raise slogans against Pakistan. Why, are they (Muslims) Pakistanis)?" RV Singh wrote on Sunday.
A 23-year-old man was killed after a communal violence broke out in the small town nearly 340km northwest of Lucknow on Friday. A preliminary investigation said the clashes broke out after a group of men took out a 'Tiranga Yatra' in the Muslim-dominated Baddu Nagar area on Republic Day.
Over hundred people have been arrested on charges of murder and violence.
"It was a small incident, but see how big its implications were. The SP of Kasganj has been transferred and people are questioning the working of the district magistrate. These incidents affect the ongoing developmental work," Singh said over the phone.
Singh, who took charge as the DM of Bareilly in 2017, was a commissioned officer in the Indian Army.
Singh also wrote about a similar incident in Khelam area of Bareilly last year when a group of kanwariyas or the devotees of Lord Shiva went through a Muslim-dominated village and allegedly raised slogans against Pakistan.
"What is the need of raising such slogans? Even I will stop someone shouting such slogans outside my residence without any reason," the DM said.
The post got 235 reactions before it was taken down.
State finance minister and MLA from Bareilly City Rajesh Agarwal said he had not read the comment posted by Singh.
"But considering that he is a former army officer, I can say that he will never say anything against our country or in favour of Pakistan,'' Agarwal added.
The Yogi Adityanath government shunted out district police chief Sunil Kumar Singh three days after the communal strife even as director general of police OP Singh shot off directives asking the police to deal firmly with those who break the law.
The action came soon after Uttar Pradesh governor Ram Naik described the Kasganj clashes as a "kalank" (blot) on the state and asked the government to ensure there was no recurrence.