Arms recovery from Sanatan Sanstha: Inside ashram lies a mesh of secrecy and rules
Functioning, rules and membership of the Sanatan Sanstha are shrouded in mystery, with the outfit keeping its followers away from the public glare, and choosing to respond to queries only through official spokespersons.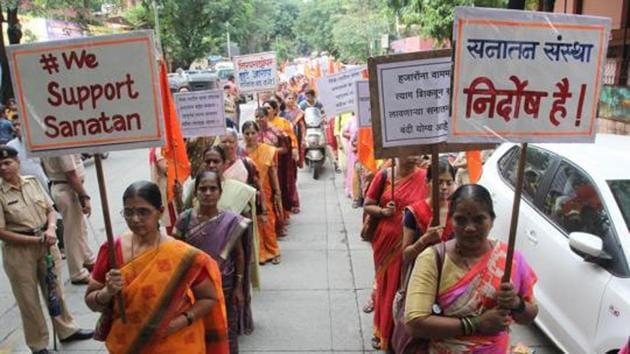 Updated on Sep 06, 2018 10:55 AM IST
Hindustan Times, Mumbai |
Eeshanpriya M S
The Sanatan Sanstha is under the public spotlight after the recovery of arms and explosives on August 9 from the house of an alleged member Vaibhav Raut of the controversial Hindu right-wing group in Nalasopara near Mumbai and the arrest of two other people, Sachin Andure from Pune and Sharad Kalaskar from Nalasopara, in connection with the 2013 murder of rationalist Narendra Dabholkar.
But its functioning, rules and membership are shrouded in mystery, with the outfit keeping its sadhaks (as its followers are called) away from the public glare, and choosing to respond to queries only through official spokespersons. Few sadhaks publicly articulate their allegiance to the organisation, which has built a stronghold in the western Maharashtra region, especially the cities of Sangli, Miraj and Kolhapur.
According to one followed who asked not to be named, "A new sadhak is allowed to pray in the ashram. He is appointed a task. He works in the group in charge of carrying out the task, and does not interact with members of other task groups as such."
Sadhaks are given information on a need-to-know basis.
Members are also taught to wear 'sattvik' (simple, pure) clothes that are pleasing to the eyes (kurta-pyjama for men, saree or salvar-kameez for women, no flashy colours), the correct posture while walking, how to pray, and celebrate festivals such as Diwali, according to the organisation's website and interviews at the ashram.
The aforementioned tasks include organising exhibitions in different cities of the books the Sanstha publishes, manning bookstalls outside temples, distributing the daily Marathi newsletter Sanatan Prabhat brought out by the outfit, door-to-door collection of subscription for the newsletter Sanatan Prabhat or teaching new inductees about the 'sattvik' way of life, another member said.
The outfit says it has no idea about its total membership. "Since there is no procedure to register the names of seekers, it is very difficult to give their number. There are lakhs of seekers who perform spiritual practice by having faith in Sanatan Sanstha," said Chetan Rajhans, the outfit's national spokesperson.
Kiran Pol, a resident of Tasgaon, a village about 25 kilometres from Sangli city, and a devout Sadhak along with his brother Suraj and their father Vilas Pol, is one of the few vocal members. He insists the Sanstha has taught him to lead a "happy Hindu life".
Despite the apparent focus on simplicity and purity, it appears the Sanstha has become cautious after the spate of arrests and controversy linked to it. "We are told to check identity cards of the people who approach us, and note down their names," Pol said.
Pol has started to dabble in law under lawyer Sameer Patwardhan, who has taken up the case of Sameer Gaikwad (arrested in 2016 in connection with the murder of communist leader Govind Pansare in 2015) and Virendra Tawde (arrested in connection with the Dabholkar murder )
"I am not studying law as a degree. I sit with Sameer Patwardhan sometimes, to learn about law. In such times when people are attacking the Sanstha with foul accusations, I am doing my duty. There are some students with me sometimes," Pol said.
"Sadhaks are spiritual seekers, and did not understand when their human rights were being violated. These are means to defend yourself, so it is time to learn about them," he added.
Close Story