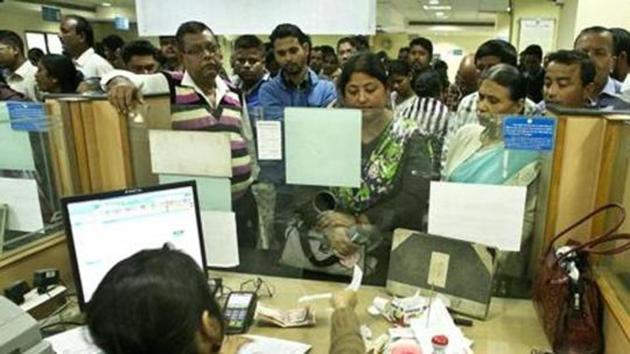 Demonetisation: Bank employees, yet to be paid for overtime, threaten strike
The government's November 8 decision to scrap bank notes of Rs 500 and Rs 1,000 triggered a country-wide rush as millions ended up in banks to exchange their notes for legal tender
UPDATED ON OCT 04, 2017 11:59 PM IST
Unions representing employees of government-run banks have threatened to launch a strike and head to courts if their employers don't clear overtime dues from the time they worked long hours to handle the demonetisation rush.
The Union government's November 8 decision to scrap bank notes of Rs 500 and Rs 1,000 denomination wiped out 86% of the currency in circulation, triggering a countrywide rush as millions ended up in banks to exchange their notes for legal tender.
In some cases, staffers worked 14 hours at a stretch and their leaves were cancelled as the system struggled to deal with the unprecedented chaos.
A majority of those employees who put in extra hours were yet to get additional pay and overtime, almost 11 months since they worked the extra hours. The rush lasted around three months. At present there are about 8 lakh employees engaged with these banks.
Bank estimates peg the number of staffers who have pending dues at about 4 lakh.
An additional hour of work will fetch an employee between Rs 100 and Rs 300 depending on the pay package. The total payout could vary from a few crore rupees to several crores.
"We have brought this issue to the notice of the government... In case dues are not paid, we will take stringent action... we could even go on strike like we did earlier... we will also look at taking other legal action, " CH Venkatachalam, general secretary, All India Banks' Employees Association (AIBEA) told Hindustan Times.
No bank, according to the unions, cleared the dues in full. The issue was also brought to the attention of finance minister Arun Jaitley and is likely to be taken up in the next meeting with the labour ministry, they said.
"We are yet to understand why banks are not paying the overtime dues to employees who are eligible for overtime dues… this pulls down the morale of the employees," Ashwani Rana, another union member said.
"At present, there are other pressing issues such as non-performing assets (NPA) and screening of bank accounts that these banks need to address on an immediate basis..HR issues have always taken a back seat for government banks," a senior official of a Mumbai based public sector bank said.
The department of financial services under the finance ministry had earlier said it was looking at innovative ways to increase compensation of all employees as it was difficult to tamper with fixed component of the remuneration packages of employees.
While there was expectation that the variable part of the pay package would be increased along with the performance linked incentives, nothing concrete has been announced denting the morale of the employees, insiders said.
Close