Beheading, burning: The many threats against Bhansali, Padukone for Padmavati movie
Rajput groups have made violent threats against Padmavati director Sanjay Leela Bhansali and actors Deepika Padukone and Ranveer Singh.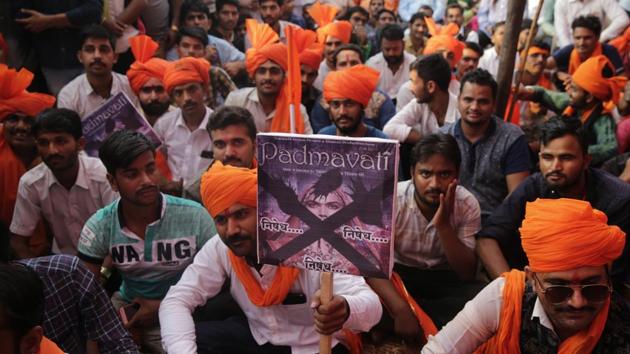 Updated on Nov 20, 2017 07:07 PM IST
Shrill protests and threats by Rajput groups against director Sanjay Leela Bhansali's Padmavati have left the film's fate hanging in balance.
A Rs 150-crore period drama starring Deepika Padukone, Ranveer Singh and Shahid Kapur, Padmavati was set to release on December 1. However, Rajput groups claimed the film "distorts" the image of the queen on whom it is based, and have ratcheted up vicious protests.
On Sunday, Viacom18 Motion Pictures, the movie's producer and distributor, said it had "voluntarily" deferred the film's release date. On Monday, Madhya Pradesh too keeled to pressure from Rajput groups and banned it from release, while two other big BJP-ruled states Rajasthan and Uttar Pradesh have demanded removal of "objectionable" scenes.
The protest around the film turned ugly as Rajput groups and leaders of political parties made violent threats against the movie's lead actors and director, and even announced bounties. In most cases, no action has been taken against those making the threats openly.
Here's a list of the more gory threats:
Chopping off Padukone's nose
On Thursday, Mahipal Singh Makrana, a leader of the Shri Rajput Karni, openly threatened to chop off Deepika Padukone's nose. While talking about the film, Makrana said Padukone was provoking them, and reminded her of the incident in the Ramayana, where Laxman, Lord Rama's brother cuts off the nose of Ravan's sister Shurpanakha .
"Rajput Karni Sena is fighting to protect the image of women being portrayed in the films. We never raise a hand on women but if need be, we will do to Deepika what Lakshman did to Shurpanakha for violating the rules and culture of India," Makrana said.
Rs 5 crores for Bhansali or Padukone's head
On Thursday, a Meerut based Thakur leader offered Rs 5 crore as bounty to anyone who beheads Bhansali or Padukone, reported The Times of India.
"Anyone who brings the head of Sanjay Leela Bhansali and Deepika Padukone will be rewarded with Rs 5 crore. Rani Ma Padmavati had sacrificed her life with 12,000 other women in mass immolation (Jauhar), and Bhansali has raised a question on her courage by showing her in bad light in his film. This is unacceptable. Either both of them should leave the country or get ready to be beheaded," Thakur Abhishek Som, national president of Akhil Bharatiya Kshatriya Yuva Mahasabha, was quoted in the TOI report.
Meanwhile, a Meerut-based group, Sarv Bhahmin Mahasabha, shot off a petition signed with blood to the Central Board of Film Certification (CBFC) to protest against the film.
Bounty doubles to Rs 10 crore, breaking Singh's legs
Suraj Pal Amu, BJP's state media coordinator for Haryana, announced a Rs 10 crore bounty for anyone beheading Padukone and Bhansali.
"I want to congratulate the Meerut youth for announcing Rs 5 crore bounty for beheading Deepika, and Bhansali. We will reward the ones beheading them with Rs 10 crore, and also take care of their family's needs," the BJP leader said.
Addressing Ranveer Singh in Hindi, Amu berated the actor for supporting Bhansali, saying "If you do not take back your words, we will break your legs."
The BJP distanced itself from Amu's comments, saying it will send a show cause notice to Amu, the party's national general secretary Anil Jain told ANI.
Burning theatres
Early in November, T Raja Singh, controversial BJP leader and member of Telangana assembly asked people to boycott Padmavati, saying it denigrates the Rajput community.
Speaking at a gathering of the Rajput community in Hyderabad, Singh said, "If anyone burns down the theatre which shows Padmavatiji (the fictional queen) in poor light... I will take the responsibility of bailing out that person," reported The News Minute.
Singh called Bhansali a "dog" who wants to demean Hindus and make money out of it. "Even I vow to burn the theatres if the film shows us (Hindus) in bad light and demeans our culture," he said.
Rs 1 cr for 'burning Deepika alive'
Members of the Akhil Bhartiya Kshatriya Mahasabha (ABKM) burnt over a hundred effigies of Deepika Padukone at Bareilly's Damodar Swarup park on Sunday, demanding a ban on the movie.
ABKM's youth wing leader Bhuvneshwar Singh said, "Deepika should know how it feels like to be burnt alive. The actress will never know the sacrifice of the queen. Any person burning her alive will be given Rs 1 crore. We demand that office- bearers of the organisation be shown the movie before it is released," reported news agency PTI.
Blackening Rakhi Sawant's face
Rakhi Sawant came under fire from Rajput Karni Sena for supporting Padmavati and praising the film. Sawant had shared a video where she asked viewers if they were excited for Padmavati.
The Rajput Karni Sena shared Rakhi's video and wrote, " Iss Rakhi Sawant ko sabhi bhai sabak sikha aur iska mooh kaala karien jahan bhi dikhe tabhi isko pata chalega iska baap kaun hai (Let every brother teach Rakhi Sawant a lesson and blacken her face wherever they see her, so she knows who her father is)," reported DNA.
Close Story