Bengal's madrasas under scanner after Basirhat violence
Basirhat was swept by violence for several days after Muslim mobs went on a rampage, angered by a controversial Facebook post by a Hindu teenager.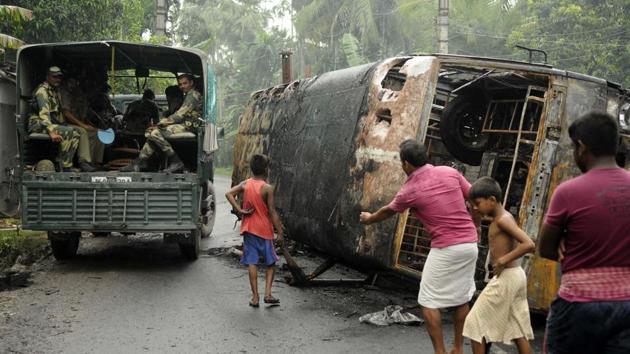 Updated on Jul 16, 2017 07:11 AM IST
With the communal violence that rocked West Bengal's Basirhat having ebbed, questions are now being raised over whether unregulated madrasas, locally called khareji madrasas, had a role in last week's mayhem.
Basirhat in the North 24 Parganas district bordering Bangladesh was swept by violence for several days after Muslim mobs went on a rampage, angered by a controversial Facebook post by a Hindu teenager. One person was killed and several homes, shops and vehicles torched before sanity was restored.
Stunned by the scale of the violence, sections of locals have blamed outsiders for it. But police say the role of unregulated madrasas, often viewed as breeding grounds of radicalisation, cannot be ruled out. Under scanner are two in Ghoraras and Kholapota of Basirhat and one in nearby Baduria. West Bengal has a long tradition of madrasa education. There are three types: Madrasas that are government approved and funded, ones that are approved but get no funding and the more common kind that operate without any approval and outside any regulation.
The unregulated ones are more in number and more problematic, say police officials. By last count, there are some 6,000 madrasas in West Bengal of which about 90% are unregulated and beyond the government's purview. Officials say the khareji madrasas have mushroomed in recent times and Basirhat and adjoining areas have no less than about 600 of them. Run by Muslim organisations and funded privately, they impart religious studies and lessons in Arabic.
Studying in such madrasas does not improve one's chances of a job. Students can hope to teach in similar places or may aim to be employed as clerics. Yet, they are a big hit among the poorer sections since fees is as low as Rs 500 with free meals and boarding.
Khareji madrasas also came under police scrutiny after one of them was used for imparting arms training to alleged perpetrators of the 2014 blast in Burdwan district that left two people dead. A probe by the National Investigation Agency (NIA) led to the unearthing of a flourishing 'jihadi' network.
Calls for renewed scrutiny have once again grown, following the Basirhat violence. "We have been long demanding modernisation of madrasa education system. These madrasas are vulnerable to fundamentalist and jihadi infiltration," said Biplab Pal, a spokesperson of the Rashtriya Swayamsevak Sangh. While some are demanding modernisation, others want them closed down. "These unregulated madrasas should be closed. Many that operate near the India-Bangladesh border are used as centres of jihadi indoctrination," alleged Sachin Sinha, Kolkata secretary of Vishva Hindu Parishad (VHP).
In 2002, then chief minister Buddhadeb Bhattacharjee had voiced similar concerns. But critics say administrations have been reluctant to order a crackdown as it may be seen as an affront to Muslims who account for 27% of the state's population.
But not everyone agrees that they are rotten. "They provide basic education to Muslim children from poor families. The students get education in religion and are able to pursue religious career," insisted Jamat e Ulema e Hind leader-turned-ruling TMC minister Siddiqulah Chowdhury.
Close Story
Personalise your news feed. Follow trending topics