Bharat Jodo nears end, Cong eyes next campaign, unveils BJP 'chargesheet'
Jan 21, 2023 04:47 PM IST
The Congress's Bharat Jodo Yatra started in September.
While the Bharat Jodo Yatra in its last leg in Jammu and Kashmir, the Congress is not relenting in targeting the ruling BJP with nine states set to vote in the assembly polls this year. The grand old party on Saturday - as it revealed the details of its next mass contact programme of 'Hath se Hath Jodo Yatra' - also released a "chargesheet" against the ruling party. "The so-called governance model of the Modi government benefits his businessman friends while keeping the public in the dark. In 9 years, Indians have witnessed Jumlas, broken promises, escalating communal tension, record unemployment & zero accountability! (sic)," the Congress wrote on Twitter, along with its elaborate list of accusations against the BJP.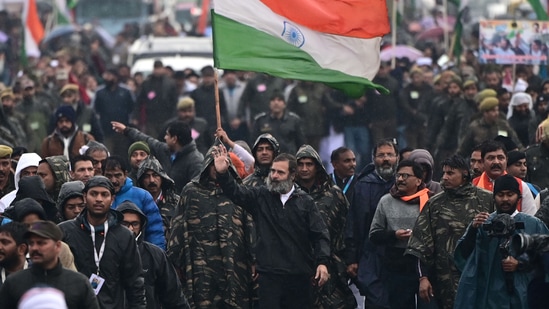 Twisting the rival party's slogan of "Sabka saath, sabka vikaas (Development while taking everyone along in the way)", the Congress used the titles "Kuch ka sath (only supporting a few)", "Kuch ka vikas (development of select few)" and "Sabke Sath Vishwasghaat" (deception with everyone" to elaborate its set of allegations. Targeting Prime Minister Narendra Modi, the party alleged that "Modi flew to Delhi to take oath in a businessman's private jet whose wealth grew 50 times since 2014". The top 10 per cent of the country's richest own "64 per cent" of India's wealth, it further claimed, adding that loans worth ₹72,000 crores of "Modi's friends were waived off" while not a single loan of farmers was waived off.
Blaming the party for unemployment, farmers' woes, women's safety issues, growing poverty, it also stepped up its attack on the China-India border tensions, claiming that Beijing "captured 20,000 sq km of land while PM said "koi ghusa nahi (nobody trespassed)."
It also took a dig at the ruling party over international rankings, including Hunger Index, Press Freedom, Democracy Index among others.
Rahul Gandhi, who has been leading the Bharat Jodo Yatra since September, has been hitting out at the rival party as he had said that the grand old party was campaigning against "the hatred spread by BJP and RSS over the last few years". The party's mass contact programme is set to end in Srinagar on January 30.