Bhim Army founder Chandrashekhar released after 15 months in Saharanpur jail
Bhim Army founder Chandrashekhar who has been in prison since his arrest in June last year, was released from Saharanpur jail early Friday morning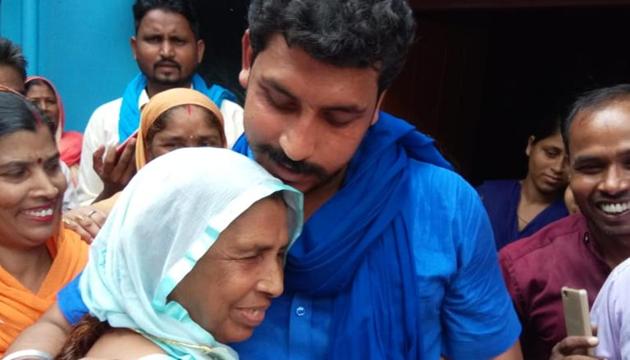 Updated on Sep 14, 2018 01:38 PM IST
Hindustan Times, Meerut |
S Raju
Bhim Army founder Chandrashekhar who has been in prison since his arrest in June last year, was released from Saharanpur jail early Friday morning.
He was arrested on June 8 last year from Dalhousie in Himachal Pradesh and was booked under the National Security Act after caste clashes in western Uttar Pradesh's Saharanpur, which left one dead and many injured. On November 2 last, his detention under the NSA was extended by another six months.
Chandrashekhar, after his release from the Saharanpur jail, was quoted by ANI as saying, "The government was so scared that they are going to be rebuked by the Supreme Court, that they ordered an early release to save themselves."
"I am confident that they'll frame some charges against me within 10 days," he said.
The Bhim Army founder accused the state government of misusing its machinary. "I will continue my fight for marginalised people against injustice," he added.
Hundreds of Bhim Army supporters who gathered outside the jail, chanted slogans 'Bhim Army Zindabad' and 'Chandrashekhar Zindabad' as their leader walked out. Overwhelmed supporters garlanded him and distributed sweets to express their happiness over his release after 15 months in jail.
Bhim Army's district president Kamal Walia claimed that Chandrashekhar's release was victory of peoples' faith in him and will infuse a new strength and vigour among the outfit's supporters.
Bhim Army supporters had gathered outside the district jail at night anxiously waiting for release of their leader but district administration strategically released him at around 3 am in order to avoid any chaos.
Chandrashekher's mother, brother and other family members also arrived there and welcomed him with garland. Bhim Army supporters then took him in a procession.
Chandrashekher had formed Bhim Army along with his associate Vinay Ratan Singh on July 21, 2015 to empower dalits and marginalised people.
The Bhim Army has influence in Saharanpur though it has supporters in all parts of western UP.
Its leaders claim that the organisation has so far opened 300 schools in Saharanpur and neighbouring districts which provide free education to children of dalits and marginalised people.
Amid the Bhim Army's rising popularity, Bahujan Samaj Party president Mayawati had accused the BJP of propping it up to target the BSP in order to build an alliance of all castes in UP.
Close Story
Personalise your news feed. Follow trending topics