BHU campus tense: As police file cases against students, UP sees 33% rise in sexual harassment
Updated on Sep 26, 2017 10:07 AM IST
Sexual harassment cases now comprise three-fourths of all assaults recorded against women in UP, according to National Crime Records Bureau data.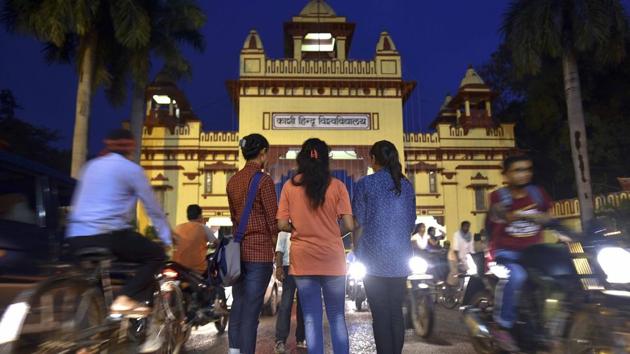 IndiaSpend |
Prachi Salve and Sanjukta Nair
Even as the police in Varanasi, Uttar Pradesh, filed charges of arson and other crimes against 1,200 Banaras Hindu University (BHU) students protesting a sexual assault by motorcycle-borne assailants, the state reported a 33% rise in sexual harassment cases from 2014 to 2015, according to national crime data, which also reveal that 74% of these cases went unpunished.
These data provide context to student allegations that the victim, a fine arts student, is being shamed–she was accused of being out late and "trying to be a boy"–in a state that set up controversial "anti-Romeo squads" and is among India's top three states with regard to many crimes against women.
The BHU protests have now garnered national attention, spiralling after the September 21, 2017, assault, when men on a motorcycle groped, abused and passed lewd remarks against the student, made worse by the reaction of vice chancellor GC Tripathi.
"Boys will be boys," Tripathi was quoted as saying in the Telegraph. "Forget about what happened. Why don't you stop stepping out after 6 pm if you dislike such things? You are a girl, don't try to become a boy (by stepping out after sunset)."
No further word was forthcoming on the investigation into the sexual attack on the student, but as the events at BHU became a matter of national debate, union minister for road transport Nitin Gadkari said: "I express my deepest condolences (at the events at BHU), and our government will inquire it soon."
Sexual harassment cases now comprise three-fourths of all assaults recorded against women in UP, the conviction rate rising from 16% in 2014 to 26% in 2015, according to National Crime Records Bureau (NCRB) data.
UP's conviction rate for "assault on woman with intent to outrage her modesty" (which includes sexual harassment, voyeurism and stalking) is better than the all-India rate which is 10%. Specific cases of sexual harassment in UP were 5,925, comprising 75% of this section of the law, the highest number of such cases reported nationwide.
Over 15 years to 2015, cases registered under this head rose 141% to 82,422. The other related section of the law, "insult to the modesty of women" (word, gesture or act intended to insult the modesty of a woman), saw a decline of 11% over the same period.
With 7,885 cases, an 8.3% fall over two years to 2015, UP–India's most populous state–reported the third highest number of cases after Maharashtra (11,713) and Madhya Pradesh (8,049) under "assault on woman with intent to outrage her modesty".
The number of sexual harassment cases in UP were 4,435 in 2014, an increase, as we said, of 33% in 2015, according to NCRB data. In comparison, such cases rose 17% in Maharashtra and declined 19% in MP.
The rise in the number of cases is likely to indicate more women today are coming forward to report crimes against them, according to experts. Crime statistics in UP are often unreliable and likely to be under-reported, IndiaSpend reported on March 13, 2015.
UP also ranked third with 519 cases of stalking, after Maharashtra (1399) and Delhi (1124) in 2015, a decrease of 38% from the previous year, when 835 cases reported were more than any other state.
(Salve is a senior analyst with IndiaSpend, and Nair, a graduate in economics and statistics, is an intern with IndiaSpend.)
(Indiaspend.org is a data-driven, public-interest journalism non-profit/FactChecker.in is fact-checking initiative, scrutinising for veracity and context statements made by individuals and organisations in public life.)