BJP names Bihar governor Ram Nath Kovind as presidential candidate
Jun 27, 2017 12:37 PM IST
Kovind is a two-time Rajya Sabha member and former national spokesperson of the BJP.
The ruling Bharatiya Janata Party proposed Bihar governor and Dalit leader Ram Nath Kovind's name for India's next president on Monday, a move being seen as part of the party's outreach towards the country's backward castes.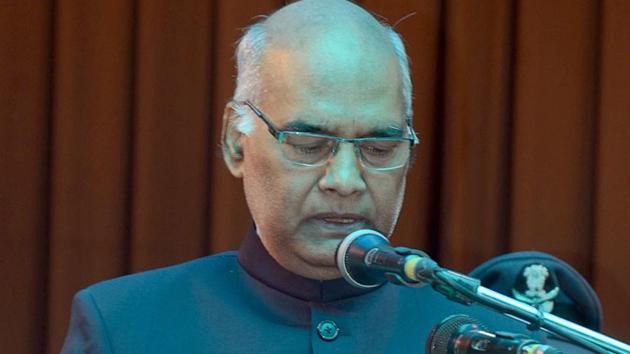 At a press conference in Delhi after a meeting of the BJP's parliamentary board, party chief Amit Shah announced the 71-year-old former lawyer and two-time Rajya Sabha MP's name.
Stay tuned with breaking news on HT Channel on Facebook.
Join Now
He said Prime Minister Narendra Modi had spoken to Sonia Gandhi – president of the principal opposition Congress party – and former PM Manmohan Singh about the decision.
"Sonia ji has said that they will hold a discussion before a decision," Shah told reporters.
Kovind's candidature is likely to help the BJP warm up to India's Dalit communities that make up more than 15% of the population and are electorally significant in many big states.
Prime Minister Modi said he was sure that Kovind will "will make an exceptional President", highlighting the Bihar governor's humble background.
The decision is likely to put many opposition leaders such as Bihar chief minister Nitish Kumar, Rashtriya Janata Dal's Lalu Prasad, Bahujan Samaj Party's Mayawati and Samajwadi Party in a tight spot, because it might be difficult for them to oppose a Dalit leader due to political equations.
Principal opposition party, the Congress expressed its disappointment in not being consulted while several regional parties, including the Telugu Desam Party and the Telangana Rashtra Samithi, backed the BJP's choice.
Kovind took over as the Bihar governor two years ago. He studied law from Kanpur University and was central government's standing council in the Supreme Court between 1980 and 1993. The old Dalit leader from Kanpur also served the national spokesman of the BJP.
He was elected and became a member of the Upper House in April 1994 from Uttar Pradesh and served for two consecutive terms till March, 2006.
Kovind also headed the BJP's Scheduled Caste Morcha between 1999 and 2002, the period during which Modi was BJP's general secretary (organisation). He comes from the Koli community, which is classified as scheduled caste in Uttar Pradesh.
The decision comes amid protracted negotiations in the Opposition camp to zero in on a consensus candidate – seen as an opportunity to rally parties for a grand anti-BJP coalition before the 2019 general elections.
The BJP is 100,000 votes short of a majority in the presidential electoral college, which means it will not only have to convince allies but also rope in fence-sitters such as the AIADMK of Tamil Nadu, Naveen Patnaik's BJD from Odisha and Telangana's ruling TRS to put its nominee in the Rashtrapati Bhawan.