Bihar opposition MPs create ruckus in Lok Sabha over Muzaffarpur issue
New Delhi |
HT Correspondent
Aug 08, 2018 03:06 PM IST
Congress' Ranjeet Ranjan threw a book and some papers after storming into the Lok Sabha's well on Monday to protest "destruction of evidence" related to sexual abuse of girls at the Muzaffarpur shelter home. RJD MP Jai Prakash Narayan Yadav also raised the issue.
The Congress' Ranjeet Ranjan threw a book and some papers after storming into Lok Sabha's well on Monday in protest against the alleged destruction of evidence related to sexual abuse of girls at a shelter home in Bihar's Muzaffarpur. She raised the matter along with another Bihar lawmaker, Rashtriya Janata Dal's Jai Prakash Narayan Yadav, as soon as Lok Sabha met for the day.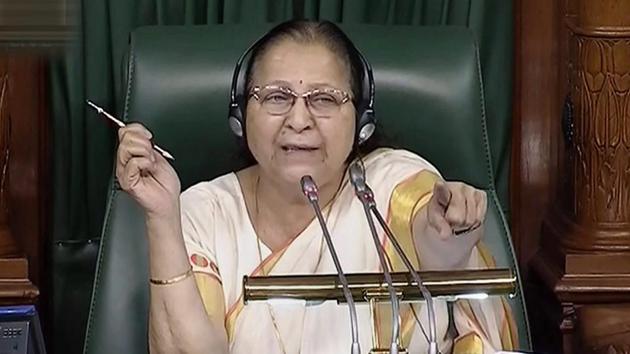 The two alleged the evidence had been destroyed before the probe into the abuse was handed over to the Central Bureau of Investigation (CBI). Congress leader Mallikarjun Kharge and Nationalist Congress Party's Tariq Anwar supported them.
Speaker Sumitra Mahajan allowed Ranjan and Yadav to raise the matter after the question hour was over. But she underlined there cannot be a discussion on the issue as the CBI is probing the matter.
Ranjan demanded a statement from Union home minister Rajnath Singh, who was present in Lok Sabha. She walked into the well and began shouting before throwing the book and papers kept on Lok Sabha secretary general Snehlata Shrivastava's table.
Yadav joined Ranjan in the well, where Telugu Desam Party members were holding placards demanding funds for backwards districts of Andhra Pradesh. This forced the speaker to adjourn the house for 10 minutes.
"We all are sensitive towards matters relating to women," Mahajan said. "The matter is with the CBI. The government must ensure that there is a fair probe."
This did little to placate the opposition. "The home minister was here, but he did not speak," Kharge said. The opposition insisted on a reply from the government.
Yadav walked out along with Trinamool Congress members when parliamentary affairs minister Ananth Kumar rose to respond. The Congress lawmakers followed suit.
The sexual abuse at the state-funded shelter-home came to light after a social audit. As many as 14 officials were suspended while medical examination of 34 out of the 42 girls rescued from the shelter home confirmed they were sexually exploited. The owner of the shelter home, Brajesh Thakur, is the main accused.