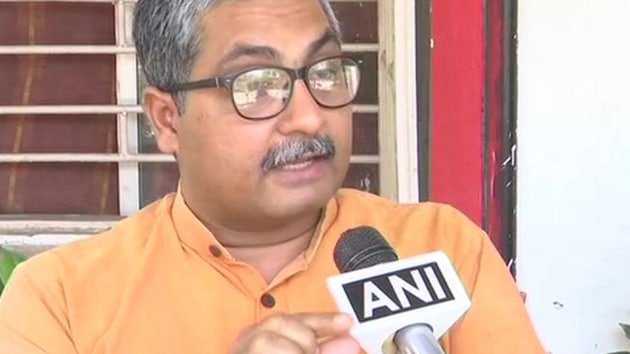 BJP leader calls Mahatma Gandhi 'Pakistan's father of nation', suspended
In a Facebook post Saumitra said, "He (Mahatma Gandhi) was the father of the nation of Pakistan."
UPDATED ON MAY 17, 2019 05:56 PM IST
A day after BJP's Lok Sabha candidate from Bhopal, Sadhvi Pragya Singh Thakur, called Mahatma Gandhi's assassin, Nathuram Godse, a patriot, a state level spokesperson of BJP in Madhya Pradesh, Anil Saumitra, has created another controversy by saying that Mahatma Gandhi was Pakistan's father of the nation.
In a Facebook post Saumitra said, "He (Mahatma Gandhi) was father of the nation of Pakistan. India has produced crores of sons like him, some good and some bad".
In a quick damage control move, the BJP suspended Saumitra from the primary membership of the party. BJP spokesperson Hitesh Bajpai confirmed the development and said, "Saumitra has been suspended from the party by the BJP state president Rakesh Singh."
Explaining the reason behind the action, a BJP leader said the people of the country had an emotional attachment with Mahatma Gandhi and such a statement was likely to cause damage to the party's poll prospects in the last phase of polling that takes place on May 19.
The same leader pointed out that even in the case of Pragya Thakur, despite her apology, the party was unhappy with her. "It is for this reason that party president Amit Shah tweeted on Friday that remarks on Mahatma Gandhi's assassin by three BJP leaders – Singh, Union Minister Anantkumar Hegde and Karnataka MP Nalin Kumar Kateel – were not in line with the party's ideology and that the party's disciplinary committee had given them 10 days to explain their comments.
Prime Minister Narendra Modi too spoke in similar vein while talking to a private news channel in Khargone on Friday afternoon that though Thakur had apologised he would never be able to forgive her.
While Thakur apologised for her utterance, Saumitra continued to defend his post. Saumitra said, "There is no concept of 'father' of a nation in Indian culture, we are all sons of Bharat Mata. The word 'father' of the nation was coined by the Congress party and it has continued till date."
Trying to justify his words that Mahatma Gandhi was Pakistan's father of the nation, Saumitra said that Mahatma Gandhi helped in the creation of Pakistan, and helped both Jawaharlal Nehru and Mohammad Ali Jinnah.
Saumitra also said that BJP was the true follower of Gandhian tradition, like Swachhata Mission, Swadeshi, which the Congress party never followed.
Call made to him by HT after his suspension from the party were noty returned.
Congress spokesperson Pankaj Chaturvedi said BJP leaders have always tried to belittle Mahatma Gandhi in anyway possible, which includes glorifying Godse. Sometime back the Hindu Mahasabha tried to build Godse's temple in Gwalior.
.
Close