BJP lawmaker says atrocities against Dalits at a high
BJP MP from Bahraich Savitri Bai Phule alleges the Centre had remained a mute spectator to atrocities against Dalits during the 'Bharat Bandh'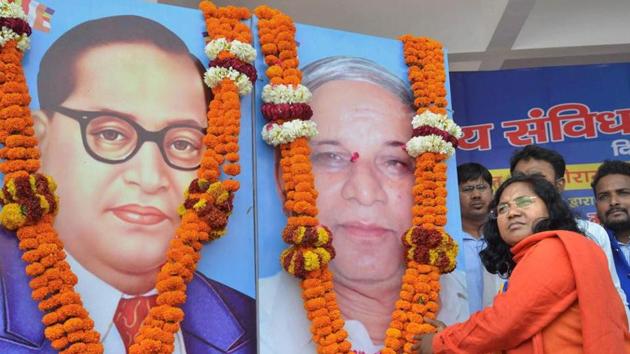 Updated on Apr 11, 2018 07:22 PM IST
A dissident Bharatiya Janata Party (BJP) Member of Parliament, Savitri Bai Phule, has accused the National Democratic Alliance (NDA) government of a conspiracy to end reservation in jobs for Dalits and alleged that atrocities against Dalits were at an all-time high under the present regime.
Phule used Dalit icon and social reformer Jyotiba Phule's birth anniversary on Wednesday to launch her scathing attack on the Centre. "We demand a caste-wise population census should be undertaken immediately to ascertain the percentage of various castes and to allocate the job quota accordingly," she said. The BJP MP said a special session of Parliament should be convened to debate the issue.
A similar demand was made by Samajwadi Party (SP) national President Akhilesh Yadav at a function in Lucknow last Saturday. The former UP chief minister had advocated enumeration of the caste-wise break up of the population with the help of Aadhaar.
A socio-economic and caste census was conducted in 2011 and the initial findings were released by the Centre in 2015.
The BJP MP from Bahraich alleged the Centre had remained a mute spectator to atrocities against Dalits during the 'Bharat Bandh' and the Uttar Pradesh government had failed to check the continuing vandalisation of Dr Bhim Rao Ambedkar's statues. Her criticism came around the time BJP chief Amit Shah was paying tribute to Jyotiba Phule in Lucknow.
"The violence unleashed during the 'Bharat Bandh' was state-sponsored and meant to divert the attention of the people from the real issue," she said.
"We have decided to observe April 2 every year as 'Bahujan Swabhiman Diwas' in memory of those killed during the protest, she said and demanded ₹50 lakh compensation each and a job for a member of the victims' families.
"Our campaign and protest would continue till we get justice and rightful share in not only government jobs but also in the private sector," she said. Clad in saffron, the disgruntled BJP MP, however, refused to name the perpetrators of the violence. Instead, she blamed the petitioner who filed the public interest litigation in the Supreme Court on the SC/ST Act and said that a case of treason should be lodged against him.
Phule parried the question when asked whether she would be meeting Shah to raise the issues concerning the community. "We will see," was her cryptic reply. "As an MP who represents a parliamentary constituency reserved for schedule castes, it is my duty to voice my concern and fight for their rights," she said.
Close Story