Body of another BJP worker found hanging from pole in Bengal
In both cases, BJP leaders alleged that Trinamool Congress-backed goons were behind the murders.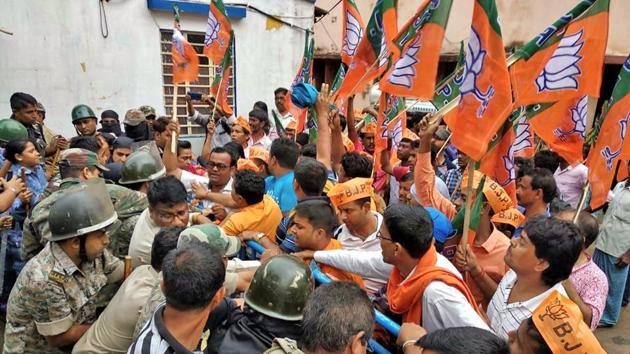 Updated on Jun 03, 2018 12:01 AM IST
Hindustan Times, Midnapore | By Koushik Dutta
, Midnapore
The body of a Bharatiya Janata Party (BJP) worker was found hanging from a high tension electric pole in West Bengal's Purulia district on Saturday, just three days after the body of another 18-year-old BJP worker, Trilochan Mahato, was found hanging from a tree in the region.
While Mahato's body was found in Supurdhi village in Balarampur block, that of 32-year-old Dulal Kumar, a district leader of the BJP OBC (other backward classes) cell, was found at Dabha village, about 5km away.
In both cases, BJP leaders alleged that goons backed by the ruling Trinamool Congress (TMC) were behind the murders because the BJP had done well in the once-Maoist area in the recent rural polls in the state. In Mahato's case a note in Bengali found near the body said he had been punished for working for the BJP.
"Distressed to know about yet another killing of BJP karyakarta Dulal Kumar in Balrampur, West Bengal. This continued brutality and violence in the land of West Bengal is shameful and inhuman. Mamata Banerjee's govt has completely failed to maintain law and order in the state," the BJP's national president Amit Shah tweeted.
In Purulia, the TMC and BJP won 839 and 645 seats respectively in what ended up being the most hotly contested segment of the local polls. Out of the 38, Zilla Parishad seats, Trinamool won 26 seats and BJP nine.
Mukul Roy, a former TMC leader now with the BJP, said he was rushing to the area.
Joy Biswas, the district police chief of Purulia, claimed that the marks on the body indicated suicide. "There could be angles of personal enmity or grudge," said Biswas.
"The local police are trying to pass off Dulal's death as suicide. It is a conspiracy by Trinamool leaders and the police. His post mortem should be done by a team of five doctors and the proceedings should be videographed," tweeted Kailash Vijayvargiya, the BJP's national general secretary.
He also said that he had called a senior police officer on Friday night and told him that Dulal Kumar was facing threats to his life.
Close to 50 people died in poll-related violence in the state between April 2 and May 14, the day of polling.
Opposition candidates could not file nomination in 34.2% seats of the three-tier panchayat structure and they point to this figure as an indicator of the extent of violence and intimidation in the nomination phase itself. The apex court has directed the state poll panel not to declare results for these seats without its consent.
The state government has directed a CID probe into the two deaths. Joy Biswas, district police chief in Purulia, said they are investigating the matter. But Rahul Sinha, national secretary of BJP and a former state unit president, has demanded CBI inquiry into the two murders.
Derek O Brien, Rajya Sabha MP and TMC spokesperson, tweeted, "We strongly condemn this despicable killing. All angles must be probed. The perpetrators of this heinous act must be punished. What role did Jharkhand border have to play? What elements of Bajrang Dal, Maoist or BJP involved?. Let the truth be found out through proper investigation."
Shristidhar Mahato, a local Trinamool leader, said Dulal killed himself "over a family problem and now the BJP is indulging in dirty politics. The blame for Trilochan Mahato's murder was also falsely laid at our door".
District BJP leaders called 12-hour Purulia bandh on Sunday. Late in the evening, the state government replaced Biswas with Akash Magaria, who was the special superintendent of the state Crime Investigation Department.
Topics
Close Story