Bringing yoga to the world, one asana at a time
If the idea of standardising yoga seems new and strange, perhaps that's because it is so much at odds with how yoga is traditionally practised.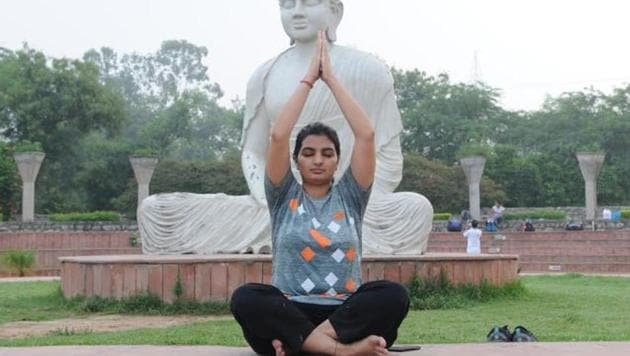 Updated on Feb 25, 2017 04:42 PM IST
Grist Media | By Deepika Sarma
"The dress for yoga practice should be:
a) Tight fitting jeans
b) Costly and sophisticated dresses
c) Protective covering from head to toe
d) Loose fitting and comfortable"
— Sample question from a Level 2 model paper for the 'Scheme for Voluntary Certification of Yoga Professionals'
"I love exams. People are usually afraid of them, but I love exams," says HR Nagendra, Prime Minister Narendra Modi's personal yoga consultant. And as a result of his efforts, along with other yoga exponents like Jaggi Vasudev, Baba Ramdev and Sri Sri Ravi Shankar, a module has been designed so that yoga teachers across India can take exams to receive government certification.
Everything in Nagendra's résumé indicates that he really loves exams. In 1968, he completed a PhD in mechanical engineering from the Indian Institute of Science (IISc), and later served in its faculty. Soon after, he pursued post-doc research at the University of British Columbia and NASA, and worked at Harvard University and Imperial College. Since his move back to India in the mid-1970s, Nagendra has been putting yoga through the Western scientific framework he was trained in.
Read more: Do yoga, with a twist. And stay fit
Seventy-four-year-old Nagendra has spent decades trying to gather quantifiable and scientifically valid evidence to understand and substantiate yoga's benefits. He is now chancellor of the Swami Vivekananda Yoga Anusandhana Samsthana (S-VYASA) on the outskirts of Bangalore, a yoga university started by his family with state-of-the-art technology and faculty from India and abroad. And, in recent years, there's been the added quest of helping standardise yoga and develop a curriculum, so it can be adopted on a mass scale. Although the scheme for this programme was announced in 2015, it will soon be a year since the actual module was launched in April 2016. According to Nagendra, around 1,000 teachers have been accredited so far.
Read more: Aroosa Alam on Capt Amarinder Singh, India-Pak relations, and love for yoga
If the idea of standardising yoga seems new and strange, perhaps that's because it is so much at odds with how yoga is traditionally practiced: Under the tutelage of a guru, who deems you ready to teach after years of practice, which can vary among students and across teachers. Many who practice yoga will also tell you that it is not simply a series of exercises, but a philosophical approach that has as much to do with the mind as it does with the body. "Yoga, quintessentially, is about the very experience of learning, and retains the experience of being taught," says Polly Hazarika, a Mumbai-based academic and Sanskrit scholar, who has been practicing yoga since 2004.
Jaya Chakravarty, who runs an Iyengar yoga studio in Bangalore, has been teaching yoga for seven years. She reiterates that the process of learning, even as a teacher, isn't as cut-and-dried as being able to pass tests. "My teacher (Zubin Zarthoshtimanesh at the Iyengar Yogabhyasa in Mumbai, who trained under BKS Iyengar) still has the right to advise me not just on techniques of teaching, but on my conduct as a teacher of the subject," she says.
For Eliane Luthi, who obtained a Sivananda Yoga Teacher's Training Certificate (TTC) after a one-month course in India in 2014, yoga is "a lifelong learning process". Working for UNICEF as a communications director, she first discovered yoga in 2008 through classes in Switzerland – her country of origin. The TTC, which she saw as rigorous and demanding, was a way of formalising her knowledge. But she had already begun teaching yoga by then, offering free classes in the discipline to humanitarian workers for "providing a sort of calmness and centredness".
Read more: Cheers to good health! Beer yoga is totally a fitness fad and it is sweeping internet
Apart from the novel idea of standardising, it also seems like an incredibly ambitious exercise: How do you standardise across multiple schools of yoga, including several prominent gurus who have taught in their own traditions with disciples continuing their work and others evolving new ways of practicing yoga, and teachers of different abilities and motivations, from those with years of experience committed to living the life of a yogi to those looking for a quick course to cash in on a trend? And how do you build it as a model for export?
Nagendra, a small, soft-spoken man who wears a shirt and veshti of white cotton, sits in his large office on the S-VYASA campus. One wall of his office is covered by a large cabinet crammed with trophies, medals and mementos from events ranging from yoga demonstrations to laughter club conventions, and large portraits of people associated with the university. The other wall is covered by a large print of a photo of the university's gold-coloured Vivekananda statue. In 2016, Nagendra headed an HRD ministry-appointed panel that recommended the setting up of courses from certificate to Bachelor's, Master's and PhD in "yogic sciences".
Read more: Too busy to go to a gym? 7 fitness tips for working professionals
Nagendra talks about the move to standardise, which began ahead of the first International Day of Yoga organised by the Indian government in 2015, "A committee was formed; I was the chairman. Yoga masters from about 18 different groups, including the Ministry of Ayush and the QCI (Quality Council of India), sat together and evolved a protocol of 30 minutes to be practiced, which should give a holistic vision of yoga. Not merely asana but pranayama, meditation, bhajan, prarthana, sankalpa, and so on," he says.
According to Nagendra, the first time International Day of Yoga was held, about 28 crore people participated in India. "Last year, the second time, 32 crore people practiced yoga. This year, our target is 50 crore – so almost 50% of people in the country practice yoga," he says.
"This is how we have been spreading a holistic vision of yoga. And almost 200-220 countries practiced this last year. This time the Minister of External Affairs wants to (take) it all over the world," says Nagendra. "But one has to bring the real, authentic yoga."
The move to standardise also evolved out of a desire to ensure quality control.
The day I arrive at S-VYASA, a group of students are writing their theory exam for the certification course in a large hall — young men and women sitting silent on the floor huddled over their answer scripts, while a stray dog naps in their midst.
Read more: Healthy binging: Here are some snack options to sate your hunger pangs
The course that the Ministry of Ayush set in place for certification was designed by QCI, presented to a Steering Committee, and modified by an Expert Group chaired by Nagendra. Level 1 includes a 90-minute theory exam. Those who pass it with at least 70% can take the practical exam and appear before a panel of three examiners for the "demonstration and viva voce". Level 2 is more advanced and slightly more subjective. Those who pass will receive certificates from the Ministry of Ayush and the Indian Yoga Association. Nagendra says examiners can even be dispatched to test small groups in remote areas.
According to Nagendra, only people who are stamped by the Ministry will get jobs in the government, and the QCI has said, "Successful candidates who wish to travel overseas for yoga promotion will get a boost from the Ministry of External Affairs as their visa fee will be exempted and their applications fast-tracked."
However, the ministry isn't, by any means, the first to attempt to squeeze yoga into the structure of modern education. The Bihar School of Yoga, for example, offers a four-month residential course in Yogic Studies that requires candidates to have a minimum educational qualification of Standard 10 and a minimum age of 21, with a caveat that the "completion of the course does not entitle one to teach yoga". Sivananda Yoga centres (the first of which was founded by an Indian teacher in Canada in the 1950s) offer a 200-hour Teacher's Training Course (TTC) in multiple countries and languages that incorporates "four intense weeks" of ashram training and a regimented curriculum that ends with written and practical exams.
Even without a system of exams and certificates, yoga has, for years, undergone a process of codification as it has spread across India, and particularly, as it migrated, to the West. Take for instance Jois Yoga, a recent and controversial at-tempt by Sonia Jones, an American student of the late Pattabhi Jois, to codify his teachings and partner with his family to set up a chain of yoga studios. Or the growth of Iyengar Yoga as taught by the late BKS Iyengar, which as one newspaper puts it, "evolved as a brand, in a non-brand way".
Perhaps any attempt to propagate teaching yoga on a mass scale today necessitates moulding to the desires of Western knowledge as well as those of capitalism, which Nagendra appears to aim for.
"BKS Iyengar, he had his own disciples," he says. "He was very, very strict about naming you as a teacher. 'Can you do tadasana correctly? Are you standing straight?' Even after 10 years he would ask this. 'Still you are not perfect, I won't pass you.' Developing a teacher meant they would have to be perfect, up to his level. Different teachers have their own way of assessment. If we want to spread all over the world in a very big way, we cannot maintain that level like Iyengar, or (Portugal-based yoga guru) Amrt Suryananda and train for 15 years."
S-VYASA is now a deemed university that also offers yoga as therapy and has a 350-bed treatment facility, including outpatient treatment for ailments from obesity to psychiatric illness. It also has a research facility equipped with sophisticated machines that can measure brain activity and sequence genes, and a convenience store near the entrance selling everything from yoga books to Baba Ramdev's Patanjali detergent. "People from all over the world come here. People who come on stretchers, they go walking. They come on wheelchairs, they go running up. People who thought it was impossible — they get so well. (…) Such miracles occur here," says Nagendra. Hazarika calls this approach "hardselling a yoga tablet".
Trying to have yoga "ratified" in a university is "ingrained in a colonial mindset", Hazarika says, coming as it does with the idea that our traditions aren't good enough, needing validation from Western science instead.
Nagendra himself sounds almost Orientalist in frequently using the term "combining the best of the East with the best of the West". It's difficult not to be sceptical of attempts to use Western science to validate Indian beliefs, particularly as it is something the right wing is fond of — consider Rajasthan BJP minister Vasudev Devnani, who hit the headlines last month for reportedly claiming that the cow was the only animal to inhale and exhale oxygen and that vitamin B in cow dung could soak up radioactivity.
But Nagendra's attempts to put yoga through the motions of Western science seem more the genuine efforts of an inquisitive mind than a reliance on pseudo-science to prove one's superiority — Nagendra himself was part of a truth-seeking informal inter-departmental group at IISc that in the 1970s investigated the Vaimanika Shastra (a document about the mythological 'vimana' or flying vehicle, often touted as supposed evidence of India's ancient aviation technology, and hence technological superiority) to see if they could replicate it. Among its very precise instructions on what materials to use or how to go about it were Sanskrit terms they were unable to decipher, and components they simply laughed at, such as horse urine and animal stools, says Nagendra. After over a year, they concluded it was a "decided impossibility".
"Science has to be taken further," says Nagendra. "It has to go beyond the physical world. Mechanical engineering was too mechanical, so I moved into human engineering."
Hazarika would probably find his approach to yoga too mechanical for her taste. She believes any attempt to standardise it is "completely alien to the interests of yoga and its ethos".
On the other hand, though Chakravarty is wary of the attempt to standardise and replicate yoga on a large scale, she believes the ministry should stick only to the physical and scientific aspects, as its philosophical concepts are "too complex to grasp through quick learning, and very likely to be distorted in the hands of curriculum makers, teachers and students with personal prejudices and belief systems." And if "someone has the training, the time, the technology, the funding" to back up claims about yoga's health benefits with scientific proof — "that's great", she says.
However, yoga teachers and practitioners agree that no standardised short-term course can certify or prepare you for the actual demands of being a yoga teacher.
Yamini Muthanna, a Bharatanatyam dancer and yoga teacher, who began learning yoga as a teenager in Mysore in 1986, studied under BNS Iyengar, one of T Krishnamacharya's more famous students (alongside BKS Iyengar and Pattabhi Jois). The Bangalore-based teacher of Hatha Yoga Vinyasa is also the author of the book The Power of Yoga, published in 2015. She began to teach after 15 years of practice and study, and says she "does not fully appreciate" the kind of standardised system that has begun to proliferate. However, she says she is not against the government's attempt to certify teachers. "When I was studying yoga in Mysore in the 80s, there were only two or three good teachers. Now there are a hundred or so. And that is not necessarily a bad thing. At least with this certification, there's some kind of structure, some kind of training involved," she says.
Panna Paranjpe, a yoga and pilates exponent, works in Chengdu, China, in a large "beautiful" studio — the biggest one she has ever seen in any country. She completed the Sivananda Yoga Teacher Training Course in Kerala over a decade ago. "The Sivananda school is a good initiation into yoga and how to teach. But I eventually realised that what I'd learned there was nothing. I had to branch out and study further on my own."
Paranjpe, who formerly ran a pilates studio in Delhi, says that in China, where she has worked for close to a year, people are "craaazy" about yoga, and take it very seriously as a form of exercise. There, they don't know much about Sivananda yoga, she observes, but Ashtanga yoga is extremely popular for the rigorous workout it provides. The version of yoga she sees being taught in China emphasises the physical aspect, like a workout in a gym, rather than the philosophical aspect, though she sees growing interest in it.
Paranjpe's work in China, nevertheless, is exactly in line with the kind of global ambitions that Modi and Nagendra have for yoga. She sees the effort to standardise yoga (if done with renowned international faculty across different schools of yoga with an emphasis on more than just the physical aspects, she believes) as "a great move".
Had the Ministry's certification course existed when she was beginning to consider teaching yoga, Paranjpe thinks she would definitely have signed up for it.
(In arrangement with Grist Media)
Close Story