'Bt Brinjal' turns out to be different genetically modified variety
This essentially means that the contamination has not happened from Mahyco's Bt Brinjal that has the CRY 1AC gene and is being commercially cultivated in Bangladesh since 2013.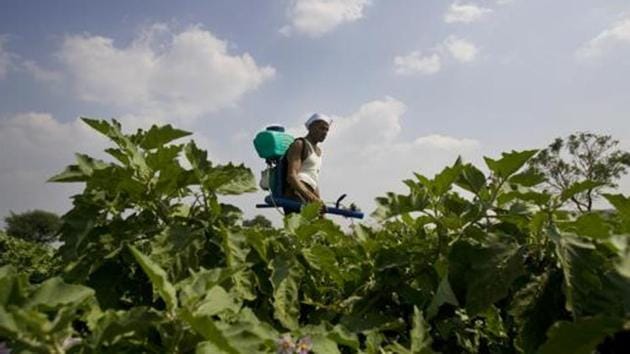 Published on May 14, 2019 08:15 AM IST
New Delhi |
Jayashree Nandi
In a new twist to the illegal Bt Brinjal cultivation story in Haryana, the state's horticulture department said that samples collected by them have tested negative for the CRY 1AC gene and the EE 1 event of Bt Brinjal, but tested positive for three other gene markers.
This essentially means that the contamination has not happened from Mahyco's Bt Brinjal that has the CRY 1AC gene and is being commercially cultivated in Bangladesh since 2013.
The contamination may have taken place through other varieties of genetically modified (GM) brinjal, which also protect against the fruit and shoot borer pest (a persistent problem in the brinjal crop).
"The test results we received from National Bureau of Plant Genetic Resources (NBPGR) show that the samples have tested negative for the CRY 1AC gene and EE 1 event, so these may not have been contaminated by the variety being grown in Bangladesh. They have tested positive for other gene markers which will have to be investigated by the Haryana Agricultural University in Hisar," said Arjun Saini, director general of horticulture, Haryana University.
This has puzzled Haryana horticulture department authorities who are now trying to ascertain how the contamination may have happened. Officials from the Genetic Engineering Appraisal Committee (GEAC) under the environment ministry did not respond to HT's queries. The GEAC is responsible for appraisal of all proposals relating to release of genetically engineered organisms and products into the environment including experimental field trials -- which means that the body should know which organisation or company was experimenting with the transgenic varieties that have been found.
Lateral flow strip tests conducted last month by the GM-free coalition, a collective of farmers' organisations promoting organic farming, found that samples from the field of Jeevan Saini, a Fatehabad- based farmer, tested positive for Bt Cry1Ac protein.
Experts said at the time that the seeds could have come from Bangladesh or be old seeds that were supposed to be deposited. The state's horticulture department sent samples to NBPGR for testing.
Several organisations are in different stages of research on transgenic brinjal which is resistant to the fruit and shoot borer pest according to experts . For example, the National Institute of Plant Biotechnology under the Indian Council of Agricultural Research (ICAR) had carried out trials of transgenic brinjal of different genes (not CRY1AC). "We had transferred the rights of research on our brinjal variety to three to four private companies a few years back. They were in different stages of trials with the companies—all contained trials. We stopped working on brinjal because our focus area is cereals and other crops," said NK Singh, project director of National Institute for Plant Biotechnology.
Experts said the issue was far more serious and scary if NBPGR's test results are correct. "There are two to three things to be considered here. There have been 7-8 transgenic events in India since 1995 (An event is the insertion of a particular gene). These are in various trail stages and have not been tested for safety. The other reason why the sample hasn't tested positive for CRY 1AC is because the gene transfer may not have happened completely which is extremely scary because we don't know what characteristics its going to exhibit. It could be toxic, cause allergies; there can be many issues," explained G V Ramanjaneyulu, executive director, Centre for Sustainable Agriculture.
Worse, the GM variant may have contaminated other brinjal varieties in Haryana through cross-pollination.
Farm activists are up in arms against regulatory authorities for not responding to the contamination of transgenic brinjal immediately. "The lack of appropriate and quick response from GEAC has always been a matter of worry. This was the case when we pointed to repeated instances of bio-safety violations in field trials. The same when we gave evidence of illegal Herbicide Tolerant (HT) cotton seed sales in India, and later with HT soy cultivation in Gujarat. Who else are citizens supposed to walk up to, if the apex regulatory body functions this way?" asked Kavitha Kuruganti, convener of the Alliance for Sustainable and Holistic Agriculture.
In February 2010, after nationwide consultations with scientists, farmers and other stakeholders, former environment minister Jairam Ramesh, announced an indefinite moratorium on commercialisation of Bt Brinjal. He said at the time that the moratorium will last till independent scientific studies establish the safety of Bt Brinjal's long-term impacts on human health, biodiversity and environment. Bt Brinjal was found to be bio-safe for environmental release by GEAC in 2009
Topics
Close Story
Personalise your news feed. Follow trending topics