Buddhist woman's wedding with Muslim sparks tension in Ladakh
Updated on Sep 11, 2017 08:11 AM IST
Ladakh's apex religious body threatens communal unrest unless the woman is "brought back", asks chief minister Mehbooba Mufti for an annulment of the marriage .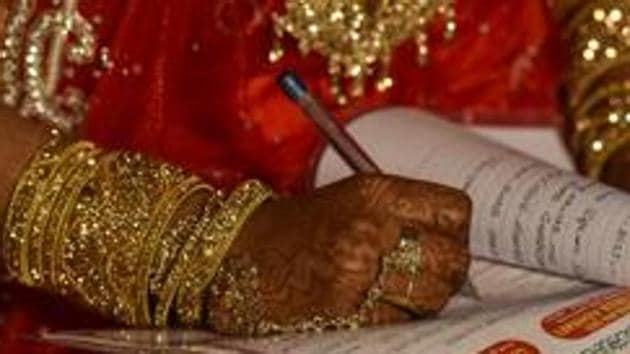 A marriage between a Buddhist woman and Muslim man has stoked tensions in Jammu and Kashmir's Ladakh, with the region's apex religious body threatening communal unrest unless the woman is "brought back".
The Ladakh Buddhist Association (LBA) has written to chief minister Mehbooba Mufti, asking for an annulment of the marriage between local-born 30-year-old Shifah, formerly called Stanzin Saldon, and her 32-year-old husband Murtaza Aga of Kargil. The woman converted to Islam in 2015. She married Aga, an engineer, last year.
"Young girls are being lured by Muslim boys to marry and finally convert them to Muslim... we have repeatedly asked the Muslim community leaders... to sensitise their communities to stay away from such wicked and depraved act which otherwise will lead to communal unrest, and the district administration will be solely responsible," reads the letter, dated September 7.
The letter, signed by LBA president Tsewang Thinles of which HT has a copy, also urged the state government to intervene immediately and make arrangements to "bring back the girl" before "peace, tranquillity and communal harmony takes an ugly turn". Repeated phone calls to Thinles and vice-president PT Kunzang went unanswered.
The controversy comes amid rising tensions between the Muslim-majority Kargil region and the Buddhist-dominated Leh region over the LBA's demand for UT status with legislative power to Ladakh region — an appeal opposed by Muslim leaders from Kargil. Ladakh-based groups say they have been historically discriminated against and received little funds to develop the sparsely populated region.
Shifah herself wrote to Mehbooba on Saturday, dismissing the LBA's claim and alleging that she was being unduly threatened. "The statement of LBA is false and concocted, an effort to suppress and threaten the rights of individual… I appeal not to let hatred and fear to win over love and compassion." She also said choosing Islam was her spiritual choice that had little to do with her marriage. A copy of this letter is with HT.
Kargil MLA Asgar Ali Karbalai alleged that the LBA was trying to disturb communal harmony. "There are no issues as such but they are trying to start one by talking about this boy-girl thing. The woman in this case converted to Islam on her own and out of her own judgement and choice married the man," he said.
In a court affidavit last year in Karnataka, where Shifah was staying then, she declared that on April 22, 2015, she converted to Islam and on April 28, 2016, she changed her name to Shifah from Stanzin. "I am affirming my new Islamic faith in healthy and sound mind without any threat, force or compulsion or coercion from any person or person, whatsoever," the affidavit said.
In another affidavit, Shifah said on July 7, 2016, she got married to Syed Murtaza Aga , out of her "own free will and consent". She declared that she was not "induced or abducted" by her husband and was not under wrongful confinement.
When tensions rose, the couple approached the J&K high court and in an order dated July 28, it observed that during the case, the "petitioners shall not be harassed".
The issue has garnered attention on social media too. In Ladakh-based Facebook groups, some users have sided with the LBA's objections saying that "values to protect our identity and culture" should be respected, while many others criticised it, arguing that a woman had every right to marry whosoever or follow whichever religion she wants.
The state women's commission has also written to the government to investigate the matter after reports that Shifah was being hounded.
"I, in fact, got in touch with the girl and she told me that she had converted before her marriage out of her own free will. She said she is an adult and educated enough to take decisions for herself," said Nayeema Mehjoor, the commission's chairperson.