Card, please: To laugh at these memes, Aadhaar is mandatory
Updated on Mar 28, 2017 04:40 PM IST
As Aadhaar becomes mandatory for filing tax returns, driving license, Twitter responds with #AadhaarMemes.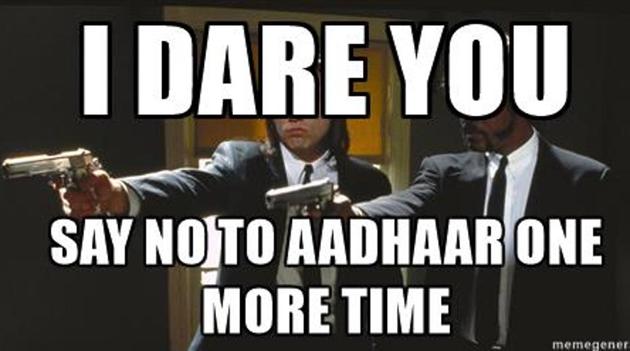 Is Aadhaar mandatory? Or is it optional? With the government's recent announcements linking Aadhaar to welfare schemes -- a move contested by a Supreme Court observation -- the battle around the unique identification number is hotting up.
While reams of analysis have been written debating the issues of privacy, surveillance and legality associated with Aadhaar, on Twitter, Aadhaar's opponents launched a take down in the most social media-friendly way we know: by making Aadhaar memes.
All through Monday, #AadhaarMemes trended on Indian Twitter. And while they make you laugh, they expose some real concerns. We picked out the 10 sharpest, funniest #AadhaarMemes for you:
1) You heard of Schrodinger's poor cat. Now meet Schrodinger's Aadhaar:
2) This bizarre scenario that may become a reality
3) The government's double-speak on Aadhaar
4) If Aadhaar becomes mandatory for every thing, are your Pokemons safe?
5) This 'Adarsh Balak' who is the poster child for Aadhaar
6) We have heard this one before
7) The death of privacy
8) But what about national security?
9) Even Batman is enraged by weak Aadhaar arguments
10) And you know who else is weary of the Aadhaar drama? This gentleman:
Close Story
Personalise your news feed. Follow trending topics