Caught on camera: Haryana Class 12 student attacks teacher in class after scoring low marks
The teacher is in a critical condition as he has suffered serious injuries in his head.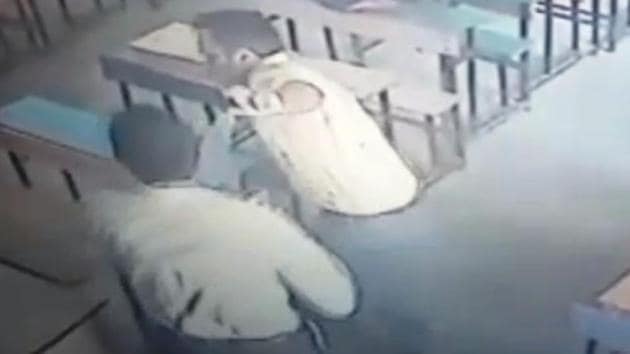 Updated on Oct 13, 2017 07:29 PM IST
A Class 12 boy studying at a private school in Bahadurgarh town of Haryana's Jhajjar district on Friday brutally stabbed his mathematics teacher multiple times in head, neck and other body parts. The incident, caught on a CCTV camera installed in the classroom, occurred at Hardayal Public School situated on Najafgarh Road.
The CCTV footage shows the student taking out a sharp weapon from his bag and attacking his teacher from behind while he seems to be busy checking papers. The student goes on to stab the teacher over 10 times till he is stopped by another teacher in the corridor. The incident occurred early morning when the accused was alone in class with the teacher.
Jhajjar assistant superintendent of police (ASP) Himanshu Garg said the student has been arrested. One of his classmates has also been arrested for providing the weapon to him to commit the crime.
He said the students have revealed that the teacher, Ravinder, had scolded them for securing low marks in the subject in semester exams in the school. "The teacher had scolded the students that he would complain about them to their parents. So they committed the crime to teach him a lesson," Garg said.
The school principal, Anuradha Yadav, said they had a parents teacher meeting scheduled for Saturday, which could be the reason of fear among the two students.
The police said the victim teacher was rushed to a local hospital by the school staff soon after the incident. He continues to be in a critical condition as he suffered serious injuries in his head.
Close Story
Personalise your news feed. Follow trending topics