Chief economic adviser Arvind Subramanian resigns, thanks 'dream boss' Jaitley
Union minister Arun Jaitley made the announcement about the chief economic adviser's resignation in a Facebook post saying that Arvind Subramanian would like to return to the US for personal reasons.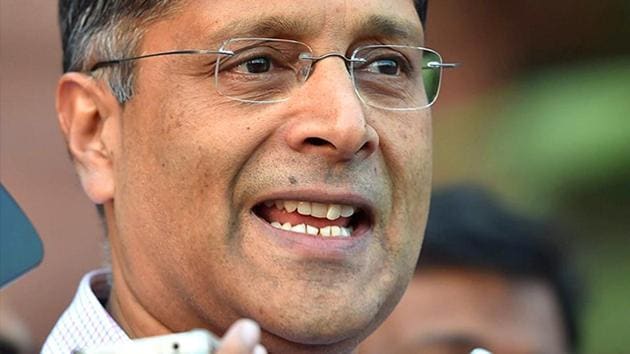 Updated on Jun 20, 2018 09:54 PM IST
Arvind Subramanian said on Wednesday that he was stepping down as the Union government's chief economic adviser (CEA) and would return to the United States to take care of pressing family commitments.
Union minister Arun Jaitley first announced Subramanian's departure on Wednesday in a Facebook post titled "Thank you Arvind " in which he lavished warm praise on the economist. "His reasons were personal but extremely important for him. He left me with no option but to agree with him," Jaitley wrote.
"My departure from this job for entirely personal reasons. It is no secret that we are expecting our first grandchild in the early September. That's a very compelling reason that takes us back to old life," said Subramanian.
Subramanian's departure makes him the third economist working with the government to go back to the US in the last two years, following in the footsteps of Reserve Bank of India governor Raghuram Rajan in 2016 and Niti Aayog vice-chairman Arvind Panagariya in 2017.
Though he refused to divulge the exact date of his departure or the nature of his future commitments, the CEA said that he was "always committed to serving the country" in case another government role was offered to him.
Subramanian, who has been on leave from the Peterson Institute for International Economics in the US where he is the Dennis Weatherstone Senior Fellow, was appointed CEA on October 16, 2014 for a period of three year. His term was extended in 2017.
"On the expiry of the three years, I had requested him to continue for some more time. Even at that stage he told me that he was torn between family commitment and his current job which he considered the best and most fulfilling he has ever done," wrote Jaitley, who has been recuperating after a recent kidney transplant.
Subramanian has pushed several new ideas, such as universal basic income (a stipend to be paid to everyone) and a state-backed bad bank that will take over distressed assets from commercial banks. He was closely associated with the Goods and Services Tax launched last year and also conceptualised the so-called JAM trinity (Jan Dhan Yojana, Aadhaar, Mobile) for direct transfer of public benefits.
"He is an Advisor who has to analyse and thinks several steps ahead. It is a unique responsibility with freedom to do the work that he enjoys. Arvind functioned within these parameters and concentrated on the challenges to the economy. His early diagnosis of the twin balance-sheet problem had led us to adopt the macroeconomic strategy of higher public investment in the Budget of 2015-16," Jaitley wrote in his blog.
The twin balance-sheet problem refers to the ballooning of bad loans at state-owned banks and corporate debt that many companies are unable to repay after overextending themselves to expand rapidly in the years when the economy was booming.
Commenting on his unfinished agenda Subramanian said: "There was a lot of demand for creating the office of CEA in a number of states, a number of chief ministers were keen to have something like this and I wish I had more bandwidth, time and energy to kind of do this in the states as well. I hope it will happen going forward."
The Congress party used Subramanian's departure to take a swipe at the government. "Financial Experts of Modi Govt are completely fed up by its Colossal Economic Mismanagement, Tepid Economic Reforms & Financial Anarchy. CEA, Arvind Subramanian's resignation after the stepping down of Niti Aayog's Arvind Panagriya & RBI Gov Raghuram Rajan comes as no surprise!" tweeted the Congress' chief spokesperson Randeep Surjewala.
"The brightest flee the sinking ship, as the 'invisible hand' of the RSS steers it onto the rocks," said Congress president Rahul Gandhi in a tweet on Wednesday.
To be sure, Subramanian attracted his share of controversy. He said last year that commenting on the beef ban would cost him his job. His strong criticism of the Reserve Bank of India's stance on monetary policy, when it refused to reduce rates in May 2017, also attracted attention.
The top-ranking official even found himself at the receiving end of Bharatiya Janata Party (BJP) MP Subramanian Swamy's Twitter posts in the past.
Before moving to New Delhi as the CEA, Subramanian had advised the Indian government in various capacities. He was also on the finance minister's expert group on the Group of 20.
Jaitley ended his Facebook post thus: "Personally I will miss his dynamism, energy, intellectual ability and ideas. He would walk into my room – at times several times a day, addressing me as "Minister" to give either the good news or otherwise. Needless to say his departure will be missed by me".
Subramanian reciprocated, calling Jaitley the "dream boss.".
"Profoundly grateful & humbled by these extraordinarily generous words by Minister @arunjaitley announcing my decision to return-for personal reasons-to researching & writing. CEA job most rewarding, fulfilling, exciting I have ever had. Many many to thank," Subramanian wrote in a tweet.
Close Story