Why Kalapani is crucial and the Chinese threat should not be taken lightly
Updated on Aug 09, 2017 08:37 PM IST
SS Pangti, retired bureaucrat and an expert on India-Nepal border affairs, said above Kalapani there is no demarcation between Indo-Nepal till China border. This could lead to problems in the coming time.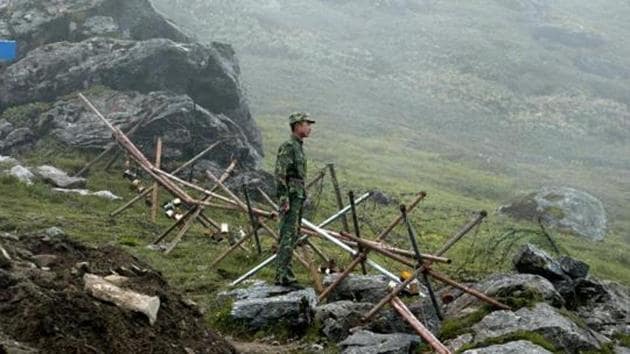 Experts said on Wednesday India should take the Chinese threat of entering Kalapani in Uttarakhand, which has come amid a seven-week military standoff with China at Doklam in Sikkim, seriously to keep an eye on "activities across the border".
A senior Chinese foreign affairs ministry official on Tuesday rejected India's suggestion for a simultaneous withdrawal of troops to end the Doklam standoff and asked what New Delhi would do if it "enters" Kalapani region in Uttarakhand or Kashmir, news agency PTI reported.
Wang Wenli, deputy director general of the Boundary and Ocean Affairs, was speaking in response to external affairs minister Sushma Swaraj, who recently said both the sides should first pull back their troops for any talks to take place, favouring a peaceful resolution of the border standoff.
Kalapani is a region close to Nepal and the Himalayan country has been staking claim over the disputed territory for years now. Kalapani is a 35 square kilometre area in the hill state's Pithoragarh district under control of Indo Tibetan Border Police. Uttarakhand shares an 80.5-km long porous border with Nepal and a 344-km border with China.
SS Pangti, retired bureaucrat and an expert on India-Nepal border affairs, said the 1816 Segauli treaty signed between the British and Nepal locates the Kali River as the western border between the nations.
Kalapani is considered as the origin of Kali River that flows from Nepal and enters Uttarakhand. In fact, both the nations are also working on a joint hydropower project Pancheshwar on the river on the Indian side.
"Above Kalapani there is no demarcation (of the boundary) between Indo-Nepal till China border. This could lead to problems in the coming time. The dragon's threat should not be taken lightly," Pangti told the Hindustan Times on Wednesday.
"It is crucial for India to maintain control at Kalapani in a bid to keep an eye on the activities across the border," he added.
Nepal has been claiming its right over Kalapani and calling it a part of its Darchula district. In August 2015, hundreds of Nepali students associated with Akhil Nepal Krantikari Sangthan (ANKS) — a frontal organisation of Nepali Maoist Party (NMP) — held a demonstration at Darchula, which is close to Dharchula district in Uttarakhand.
Ratan Dattal, president of the wing, was then quoted as saying that India should return Kalapani to Nepal without any further delay. The Maoists are understood to have cordial relationships with the Nepali government.
Former Indian Administrative Service (IAS) official Pangti said as a step forward India should "demarcate the tri- junction between India, Nepal and China".
Brigadier (retd) KG Behl said after 1962 war with China Indian troops are well prepared and strategically positioned, "however, we must check the gaps".
China has reportedly intruded into the Barahoti area in Chamoli district of the hill state in the past.
In July this year, Chinese troops were sighted on the Indian side of the Line of Actual Control (LAC) at Barahoti — an 80 square km pasture land next to Tibetan plateau. The Chinese troops intruded almost a kilometre into Indian territory and threatened some shepherds, PTI reported.
India and China have been locked in a face-off in the Doklam area for 50 days after Indian troops stopped the Chinese army from building a road in the area.
China claimed it was constructing the road within their territory and has been demanding immediate pull-out of the Indian troops from the disputed Doklam plateau. Bhutan says Doklam belongs to it but China claims the area belongs to it and says Thimphu has no dispute with Beijing over it.
Personalise your news feed. Follow trending topics