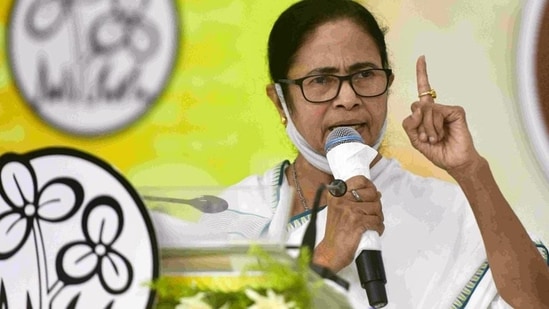 CM Mamata stresses on Oppn unity for '24 polls
"When (Prime Minister Narendra) Modi will fight his next election, it will be an India vs Modi battle," Mamata Banerjee declared.
UPDATED ON JUL 29, 2021 04:36 AM IST
West Bengal chief minister Mamata Banerjee on Wednesday repeatedly emphasised on forging a broader pact among Opposition parties for the 2024 national elections, throwing her weight and political capital behind an ambitious project of bringing together different forces opposed to the Bharatiya Janata Party (BJP).
"When (Prime Minister Narendra) Modi will fight his next election, it will be an India vs Modi battle," she declared.
Banerjee met Congress president Sonia Gandhi at the latter's residence and the two leaders, accompanied by Congress leader Rahul Gandhi, discussed the possibilities of different parties coming together to take on the mighty BJP. Later, she met Delhi CM Arvind Kejriwal.
Describing the 45-minute-long meeting with Sonia Gandhi as "positive", Banerjee said, "Soniaji had invited me for a cup of tea. We discussed the political situation in the country. We also discussed the issue of opposition unity."
Banerjee, who came to Delhi on July 26, has been meeting a series of Opposition leaders. She made it clear that the aim was to secure more space for regional parties and sounded hopeful that parties averse to the Congress can join this ambitious pact.
"I maintain good relationship with Jagan Mohan Reddy, Navin Patnaik and Arvind Kejriwal. If not today, they can always come (with us) tomorrow. If there is a political storm, it is difficult to contain," she said.
She also set aside speculations of any leadership position for her in this possible dispensation. Describing her as a LIP (less important person), Banerjee announced her popular poll slogan "Khela Hobe" (game on) will continue and even coined "Hope 24", as if the countdown for the next polls has already started.
She maintained that the leadership issue will depend on situation, structure and system. "It is not that everybody can take the lead. We can work together," Banerjee quipped.
She even kept the door open for her erstwhile arch-rival, Communist Party of India (Marxist). "CPI(M) has its own problems. They have to decide who is their first enemy, is it BJP or Trinamool," she said
"Look how popular Modi was when he came to power in 2014. But now people are angry with him. People saw dead bodies floating in the river, will they still support him?" she said, referring to reports during the second Covid-19 wave of dead bodies floating in the Ganga in Bihar and Uttar Pradesh.
"Wealth wise, BJP is very strong. But opposition will also be very strong politically. If all regional parties come together, it will be stronger than one party rule," the West Bengal CM added.
Banerjee has already met senior Congress leaders such as Kamal Nath, Anand Sharma, Abhishek Singhvi, and had a telephonic conversation with Rashtriya Janata Dal (RJD) leader Lalu Prasad Yadav. She is expected to meet Union minister Nitin Gadkari on Thursday,
The Bengal CM, who defeated the BJP in assembly elections in May, lashed out at the Modi government for not responding to questions raised by Opposition over allegations that politicians, activists and journalists were potentially targeted by Pegasus spyware.
"The government can order an enquiry by a sitting judge. If you raise an issue, they don't care. In democracy, you have to respond to what others say. Why is government not taking suo motu action in Pegasus controversy? In every other matter, they immediately send CBI [Central Bureau of Investigation] or ED [Enforcement Directorate]. All institutions are full of BJP's own people. They give reports based on what the BJP party offices say," she said.
On July 26, the West Bengal government announced a probe into the Pegasus row, becoming the first state to do so. Former Supreme court judge, justice (retd) Madan Lokur and former Calcutta high court chief justice, justice (retd) Jyotirmay Bhattacharya comprise the probe panel.
Indian polity has seen several non-BJP, non-Congress formations gain power at the Centre, especially in the heyday of coalition politics in the 90s, but in recent years, such third front formations have been short-lived.
Topics
Close