CM Shivraj Singh Chouhan banks on schemes to better tally in Madhya Pradesh, but faces risk of fatigue
In Madhya Pradesh which goes to poll on November 28, there is a welfare scheme for everyone - newborns, students, farmers, even the dead - yet a big risk, which the BJP chief minister Shivraj Singh Chouhan faces, is fatigue.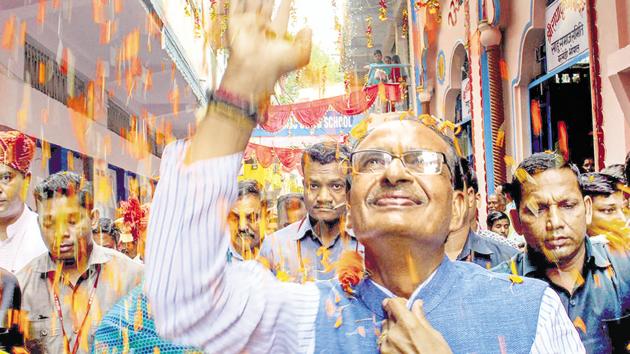 Updated on Oct 10, 2018 12:17 PM IST
Chief Minister Shivraj Singh Chouhan is two hours behind the schedule for a public meeting in South Madhya Pradesh's Burhanpur district. A local singer keeps the audience engaged with patriotic songs while the crowd cheers every update about Chouhan's arrival. He, finally, drives into Jaistambh roundabout in an open jeep. His wife, Sadhna, and other ruling Bharatiya Janata Party (BJP) leaders accompany him for the public meeting. There is loud cheering as 'mama' (uncle) Chouhan is finally on stage.
"Your mama is here to take care of you," Chouhan declares. "You do not have to worry about anything." After an hour-long speech, Chouhan takes his bus for another public meeting.
The 'Mama' factor
Chouhan announced a number of welfare schemes in the run-up to the last assembly election in 2013. There was a scheme for every section – newborns, students, young entrepreneurs, women, farmers, widows and even the dead. "People fondly call him Mama because he takes care of his people," said women and child development minister Archana Chitnis.
Chouhan fought his second election as chief minister in 2013 and improved his tally of seats in the assembly from 143 (out of the total 230) in 2008 to 165 seats. The 2008 assembly election was the most difficult Chouhan faced. He had replaced Babulal Gaur as the chief minister in November 2005 and had to deal with the rebellion of Uma Bharti, who walked out of the BJP ahead of the 2008 election.
The Congress had regrouped ahead of that election. Chouhan faced internal challenges too. He somehow managed to win. "Chouhan realised he needed an image makeover if he had to play a long innings," said a close Chouhan confidant. "It was then he decided to play the mama's role."
Chouhan is banking on his mama image to tide over the anti-incumbency that has set in after 15 years of BJP rule. He has travelled throughout the state ahead of the elections on November 28, touching people's feet, folding hands and waving at them. Small groups of people would wait to greet him during his Ashirvad Yatra.
"The entire government machinery is being misused. Every government department has been given a target to bring crowds along his yatra route and for his rallies," Congress leader Shobha Oza said.
BJP leader Prabhat Jha rejected Oza's charge. "People are on the streets to meet their mama."
The gamble
Chouhan is playing Mama again – this time for a larger audience. "The government's 'sambhal' scheme is going to be a game changer in this election," Jha said, referring to the scheme for the people working in the unorganized labour sector. Electricity at a fixed rate of Rs 200 monthly and insurance benefits in case of death have been promised under the scheme. Over 2 crore people, who account for the state's nearly 50% electorate, have enrolled for the scheme and the number is growing.
The BJP polled 1.5 crore votes in the 2008 election. "If sambhal scheme strikes a chord, it will take us past the 2013 tally," said a BJP leader, who asked not to be named.
Chouhan has mentioned the scheme at every meeting during his yatra.
"Every family has benefitted from one or the other government scheme," said BJP Parliament member Nand Kumar Singh Chauhan. "They know having Chouhan as chief minister is in their interest."
The challenge
The BJP has been in power for 15 years. Chouhan has been the chief minister for 13 years. There is a risk of fatigue. The killing of six farmers in Mandsaur during an agitation for better price for their produce in June 2017 is also fresh in public memory. Jobs are not adequate while crimes against women are on the rise. An internal assessment shows a large number of BJP lawmakers are unpopular and might hurt the party's tally of seats.
"The BJP is certainly dealing with a strong anti-incumbency and the populist announcements, irrespective of state's poor financial condition, is indicative of that," said Congress leader Suresh Pachauri.
The BJP is conscious of the challenges.Chouhan began his yatra to cover each assembly constituency to overcome the challenges. The idea was to fight the fatigue with the projection of his personal appeal. Prime Minister Narendra Modi's rallies ahead of the election will also be an advantage, BJP leaders said.
The BJP has tried to placate farmers by offering them higher prices for their produce and meeting their long-pending demand for cash payments at local mandis.
The anti-incumbency was being dealt with by dropping a significant number of legislators. "BJP president Amit Shah hinted, at an internal meeting, that there could be 120 new candidates…," a BJP leader said.
Chouhan said he does not see any anti-incumbency. "In fact, there was less response to my yatras in 2008 and 2013 compared to this year. I attribute it specifically to pro-poor schemes, which affect the lives of the poor; a part of society that people had alleged did not support the BJP. They are now with us."
Close Story