Congress seek JPC or SC-monitored probe into Adani Group crisis
Feb 02, 2023 04:13 PM IST
The report by Hindenburg Research on January 24 alleged improper use of offshore tax havens and stock manipulation by the Adani Group
NEW DELHI: Opposition lawmakers led by the Congress on Thursday disrupted proceedings in both Houses of Parliament to demand a discussion on the Adani Group crisis and a probe into allegations of fraud levelled in a report by US short-seller Hindenburg Research.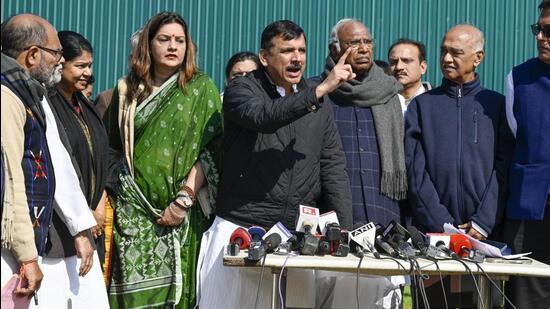 "Keeping public interest in mind, we want a thorough probe into the Adani issue either by a Joint Parliamentary Committee (JPC) or a Supreme Court-monitored probe. There should also be day-to-day reporting of the investigation on the issue," Leader of Opposition in Rajya Sabha Mallikarjun Kharge later told reporters.
Kharge sharp pitch against industrialist Gautam Adani came against the backdrop of a report by Hindenburg Research on January 24 that alleged improper use of offshore tax havens and stock manipulation by the Adani Group. It also raised concerns about high debt and the valuation of the seven listed Adani companies.
The group has denied the accusations but the shares of the firm have continued to nosedive against the backdrop of allegations of fraud by the US short-seller. Late on Thursday, Adani Enterprises announced that it will not proceed with its fully subscribed Follow-on Public Offer (FPO) in view of the market volatility and "the unprecedented situation".
Kharge said on behalf of like-minded opposition parties, he demands either a JPC or an SC-monitored investigation in the manner in which government-owned companies were "forced to invest in firms that have been exposed by the Hindenburg report".
He said along with him eight other opposition MPs had given notices in the Rajya Sabha for a discussion on the Adani Group crisis and investment of PSUs such as Life Insurance Company (LIC) and SBI (State Bank of India) in the group companies.
AICC head of media and publicity department, Pawan Khera said: "Adani's risky investments in LIC, SBI and other nationalised banks should be discussed in Parliament and appropriate steps should be taken to protect the investors".