Congress stings BJP's Malviya for his remark on ex R&AW chief. It involves Vajpayee
Jan 03, 2023 10:54 PM IST
Former R&AW chief A.S. Dulat joined the Rahul Gandhi-led Bharat Jodo Yatra on Tuesday as the Congress party's foot march made its way through Uttar Pradesh after exiting Delhi.
Congress on Tuesday hit back at BJP IT cell head Amit Malviya for accusing former Research and Analysis Wing (RA&W) chief A.S. Dulat, who joined Rahul Gandhi-led Bharat Jodo Yatra, of being hand in glove with Pakistan's deep state.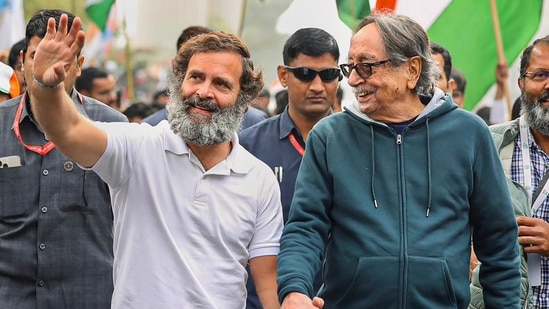 Calling Malviya a "fake news peddler", Congress spokesperson and head of the party's social media department Supriya Srinate said the BJP functionary not only insulted a police personnel who served the nation but also tarnished BJP co-founder and former prime minister Atal Bihari Vajpayee "who appointed Dulat in multiple key roles of national security."
"Hey Fake news peddler, you are a blot on nationalism and also on the BJP. By insulting Shri Dulat today, you not only insult police personnel who serve this nation you also tarnish BJP co-founder Vajpayee Ji who appointed Shri Dulat in multiple key roles of national security," Srinate tweeted.
Dulat joined the Bharat Jodo Yatra on Tuesday following the recent release of his memoir 'A Life in the Shadows' on December 22. The former spymaster served as the head of India's external intelligence agency from 1999 to 2000. Following his retirement, he was appointed as an advisor on Kashmir in the Prime Minister's Office, where he served from January 2001 to May 2004 in the Vajpayee government after his retirement as the R&AW chief.
"Controversial former RAW chief AS Dulat joined Rahul Gandhi's Bharat Jodo Yatra. No one ever accused Dulat of being committed either to his job or the country he was meant to serve, supped with secessionists and Pakistan's deep state and has a monumental role in Kashmir fiasco…," Malviya said in a tweet.
Congress's media and publicity department head Pawan Khera said Malviya was "so shaken by Bharat Jodo Yatra that he accused his own party's Atal Bihari Vajpayee of colluding with Pakistan's ISI."