'Monumental role in Kashmir fiasco': BJP slams ex-RAW chief Dulat for joining Bharat Jodo Yatra
Jan 03, 2023 08:01 PM IST
The former spymaster was never committed to his job, and supped with secessionists and Pakistan's deep state, tweeted BJP IT cell chief Amit Malviya.
The BJP on Tuesday lashed out at former Research and Analysis Wing (R&AW) secretary Amarjit Singh Dulat, as he joined the Rahul Gandhi-led Bharat Jodo Yatra, which resumed after a 9-day break, and entered Uttar Pradesh from Delhi.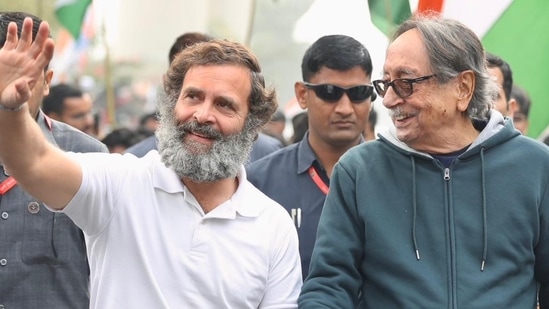 Also Read: Former RAW chief AS Dulat joins Rahul Gandhi-led 'Bharat Jodo Yatra' in Delhi
Taking to Twitter, BJP's IT cell chief Amit Malviya said the former chief of India's external intelligence agency had a 'monumental role' in the Kashmir fiasco.
"Controversial former RAW chief AS Dulat joined Rahul Gandhi's Bharat Jodo Yatra. No one ever accused Dulat of being committed either to his job or the country he was meant to serve, supped with secessionists and Pakistan's deep state and has a monumental role in Kashmir fiasco," tweeted Malviya.
The former spymaster, who served as an advisor on J&K to then PM Vajpayee after retirement, joined the nationwide march days after the release of his memoir 'A Life in the Shadows.' Considered an expert on Kashmir, he had, in April last year, described Bollywood film 'The Kashmir Files' as 'propaganda.'
The movie is based on the exodus of Kashmiri Pandits from the Valley in the 1990s. It was heavily endorsed by leaders of the ruling BJP, including prime minister Narendra Modi himself. The Congress, on the other hand, dismissed it as propaganda.
Dulat, who headed the agency from 1999 to 2000, is the latest prominent personality to participate in the Gandhi-led march. In December last year, both former RBI governor Raghuram Rajan and actor-politician Kamal Haasan walked with the former Congress president, in Rajasthan, and Delhi respectively.
Rajan's participation in the yatra was slammed by various leaders of the BJP.