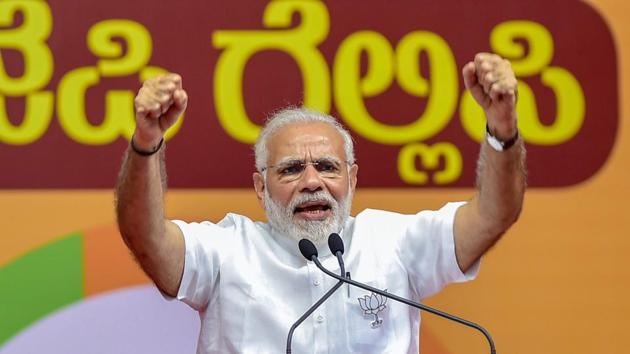 Congress turned Bengaluru from Silicon Valley to valley of sin, says PM Modi
At a rally in Bengaluru, the PM said the city had been changed from a garden city to garbage city, and its cosmopolitan culture had been changed to a culture of chaos.
UPDATED ON MAY 03, 2018 11:56 PM IST
Prime Minister Narendra Modi on Thursday took aim at the Congress government of Karnataka and accused it of having reduced Bengaluru to a valley of sin from Silicon Valley. Modi also attacked the Janata Dal (Secular), another contender in the May 12 assembly election, and its leader HD Deve Gowda.
Addressing a rally in Bengaluru, his sixth in the state ahead of the polls, Modi listed a slew of alleged lapses by the Congress government, saying it had given the city many "gifts". The PM said the city had been changed from a garden city to garbage city, and its cosmopolitan culture had been changed to a culture of chaos. From computer city, it had become crime city, and from a start-up hub, it had changed to a pothole club, Modi said.
Modi said the city of lakes had been turned into a city of burning lakes. "Photos of the Bellandur lake with froth and fire showed the misrule of the government," he said. The PM also attacked the Congress over the aborted steel flyover plan that was opposed by environmental activists. "It was not a steel flyover, it was a steal flyover," he said referring to allegations of graft in the project.
Just two days after he accused CM Siddaramaiah of having disrespected former prime minister Deve Gowda, Modi said all pre-poll surveys and pundits had already predicted that the Janata Dal (Secular)would finish a distant third in the polls. "All the surveys and pundits are clear that JD(S) will hobble to a distant third with much difficulty. But in its lust for power, that party has tied up with dynastic parties and those who support terrorists," he said. The JD(S) has tied up with Bahujan Samaj Party, Telangana Rashtra Samiti and the All India Majlis Ittehadul Muslimeen.
Earlier in the day, addressing a rally in Ballari city, where Bharatiya Janata Party (BJP) candidate G Somashekhara Reddy was present, Modi said the Congress had maligned the district internationally as a land of thieves and robbers, calling it a conspiracy and an insult to the people. Reddy is a brother of mining baron G Janardhana Reddy.
"Congress has left no stone unturned to bring disrepute to Ballari, it is being projected as if only thieves and robbers live here. This is an insult to Ballari, and every citizen here must punish those trying to discredit you," Modi said. Referring to the Congress's decision to give a ticket to G Janardhana Reddy's former aide Anand Singh from the Vijayanagara constituency in the district, Modi said the Congress was fielding candidates who had been jailed. Accusing the Congress of having neglected the district, Modi said even if the government spent some money on providing drinking water to the people, it would not have been in the dire straits it finds itself in now.
The PM also accused the Congress of being against the interests of Dalits and Adivasis. "Before the 2013 elections they said Mallikarjun Kharge would become the chief minister but after polls they held a secret ballot and sidelined poor Kharge," he said. Kharge is a Dalit leader.
Modi said when the BJP got the chance, it had always proved itself to be secular. "When Atal Bihari Vajpayee was the PM and we had the opportunity to elect a president we chose a Muslim president in APJ Abdul Kalam. When next we got a chance, people thought we would bring in a casteist president, but we made a Dalit the president. BJP's opponents and those who tarnish us used to say BJP is a Baniya-Brahmin party , but we made a Dalit president and an OBC (other backward classes) chaiwala the prime minister."
Repeated attempts to reach Congress spokespersons for comment on Modi's speech went unanswered.
Close