Mamata govt seals office of Nepali TV channel after Gorkhaland stir coverage
Jul 23, 2017 11:48 PM IST
Bouts of clashes and arson attacks have rattled the picturesque hill station of Darjeeling for more than five weeks, causing schools and shops to shut down .
The West Bengal government sealed the Siliguri-based office of a Nepali language satellite television channel on Saturday night, a move seen as crackdown on establishments allegedly promoting the public unrest for a separate Gorkhaland state.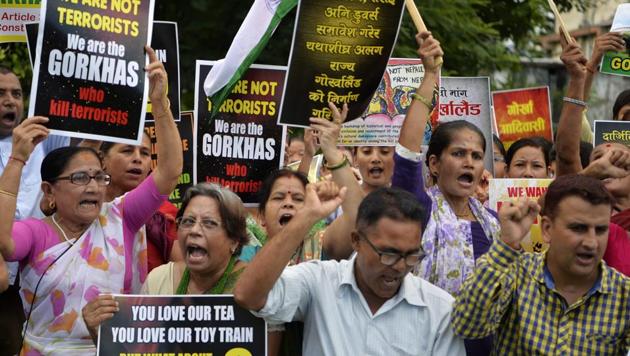 Police alleged the ABN News Network, India's first Nepali TV channel, disobeyed a public servant's order and promoted enmity between groups.
The allegations follow the channel's coverage of a pro-Gorkhaland rally in which participants carried khukris, the short and curvy Gorkha sword, sources said on Sunday.
People are not allowed to carry the traditional weapon in the restive Darjeeling hills that have been on the edge after chief minister Mamata Banerjee announced the government's decision to make Bengali a mandatory subject in all schools in the state.
The majority of people in West Bengal's tea-growing and touristy hill districts speak Nepali and they opposed the move, which reignited the movement for a separate state. The situation deteriorated when three Gorkhaland supporters were killed in police firing on June 17 in restive Darjeeling.
Banerjee later clarified Nepali-speaking students will not have to learn Bengali. But the damage was already done.
The government imposed curfew, banned internet services and deployed additional forces, including the army, to quell the situation. But the tension showed no signs of abating as the region remained shut for the 39th day this weekend because of an indefinite public strike.
The step against the TV channel is criticised as a breach of free speech.
"The channel is registered as satellite television channel with the Union ministry of information and broadcasting," said Swapnanil Chatterjee, the CEO.
Policemen entered the corporate office of the channel along Sevok Road on Saturday night, and searched the premises before sealing it.
Darjeeling's BJP parliamentarian SS Ahluwalia said he has informed the Union government about it.
"There has been no internet or cable TV in Darjeeling hills over the past month. Now, the ABN office has been sealed. I have drawn the attention of the Prime Minister, Union home minister and the information and broadcasting minister," he said.
Police issued a notice, asking the CEO and the company's human resource manager Tulsi Rahaman to appear before an investigating officer.
"We intended nothing but to be a neutral and efficient mirror of society. We'll be back at your service," said Bijay Chamling, the channel's chief managing director.
Government officials refused comments.
Bimal Gurung, chief of the Gorkha Janmukti Morcha that is spearheading the statehood stir, said: "The state government is trying to suppress the democratic movement through undemocratic and fascist means."