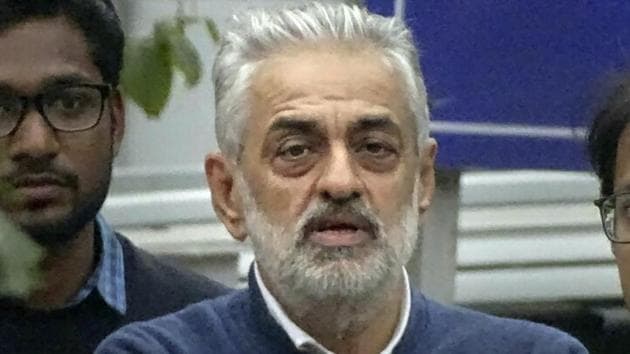 Deepak Talwar bail plea rejected, warrant against son
ED's lawyer also informed the court that Deepak Talwar was in regular touch with former civil aviation minister Praful Patel.
UPDATED ON MAY 02, 2019 12:40 AM IST
A Delhi court on Wednesday took cognisance of the charges filed against lobbyist Deepak Talwar, dismissed his bail application, and issued a non-bailable warrant against his son Aditya Talwar in a case under the Prevention of Money Laundering Act, and concerning the securing of undue benefits (in terms of flying rights) for some foreign airlines at the cost of Air India.
Talwar's wife was also quizzed by Enforcement Directorate , her third such interaction, on Wednesday, an ED officer said on condition of anonymity.
A second ED officer who asked not to be named said Aditya Talwar took the citizenship of Antigua sometime around the last quarter of 2018, for which he submitted a police verification report of United Arab Emirates (UAE), a process required by Antigua while according citizenship to anyone. "Ideally, Aditya Talwar should have taken India's police verification but this shows that father and son had no plans to return to India," said this officer
ED's lawyer also informed the court that Deepak Talwar was in regular touch with former civil aviation minister Praful Patel.
Although Patel has not been named in the chargeheet as an accused, the agency claimed that it has annexed some communications between Talwar and the former minister establishing their association. "(Deepak) Talwar finalized various communications on behalf of Emirates, Air Arabia, to be addressed to the then minister of civil aviation Praful Patel," said ED's special public prosecutor D P Singh.
Patel declined comment.
ED now plans to approach Interpol to issue a red notice against Aditya Talwar while an extradition request will also be soon filed with Antigua and Barbuda.
At the time of filing of a charge sheet in the court of Special CBI Judge Santosh Snehi Mann at Rouse Avenue Court Complex. on March 30 against Talwar and his son Aditya Talwar, ED stated in a statement that Talwar, deported from the UAE on January 31 this year, was "engaged in liasioning/lobbying with politicians, ministers, other public servants and officials of ministry of civil aviation, for Emirates, Air Arabia, and Qatar Airlines for securing undue benefits for them. He illegally managed to secure favourable traffic rights for these airlines during 2008-09 at the cost of national carrier – Air India". The case has now been transferred to the court of special judge Anuradha Shukla Bhardwaj.
The charges relate to 2008-09 according to a release from ED on 1 May. "Investigation under PMLA was initiated by ED in August 2017 on the basis of FIR registered by CBI against officials of Ministry of Civil Aviation, NACIL, Air India, and unknown private persons," it added.
The federal anti-money laundering probe agency has alleged that Deepak Talwar received Rs 272 crore from these foreign airlines for his services. "He (Talwar) created a web of his own entities and used companies of his son Aditya Talwar, in India and internationsl offshore havens, to launder ..." the statement said.
The agency has claimed that it is trying to find out the names of officials of ministry of civil aviation, NACIL (National Aviation Company of India Ltd) and Air India, who favoured the foreign airlines by making policies favouring the foreign airlines.
Talwars' lawyer Tanvir Ahmed Mir said: "This whole case is based on misplaced allegations. The CBI began investigations in the so called aviation related irregularities in 2010 and my client has not been called even once by the anti-corruption agency which means there is nothing against him." He added that Aditya Talwar has not lived in India for the past 19 years.
Close