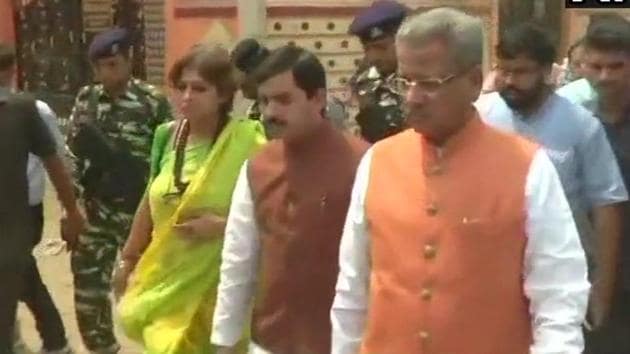 Bengal: BJP leaders visit Asansol, target TMC for 'failing' to stop clashes
The BJP delegation comprises Shahnawaz Hussain, Om Prakash Mathur, Vishnu Dayal Ram and Roopa Ganguly. They will submit a report to BJP president Amit Shah.
UPDATED ON APR 01, 2018 11:18 PM IST
Defying the West Bengal government's prohibitory orders, a four-member Bharatiya Janata Party (BJP) delegation visited violence-hit Asansol on Sunday and accused the state government of 'failing' to stop the clashes.
Accompanied by party leaders and supporters, the team of BJP national spokesperson Shahnawaz Hussain and MPs Roopa Ganguly, Om Prakash Mathur and Vishnu Dayal Ram, reached Asansol, which was hit by last week's Ram Navami violence, to take stock of the situation and submit a report to the party's central leadership.
Targeting CM Mamata Banerjee, the delegation said the Trinamool Congress (TMC) chief was focusing on politics instead of helping the state's people.
"The (state) government has failed to tackle the situation. Mamata Banerjee is roaming around in Delhi while little children are suffering here. We will mention everything in our report to the BJP central leadership," Hussain said.
Local Muslims and Opposition leaders, however, accused the BJP team of only visiting the town's Hindu-dominated areas. The BJP leaders did not meet the imam of Nurani Mosque, Maulana Imdadul Rashidi, who had urged Muslims not to resort to retaliatory violence after his 16-year-old son was killed in the riots following a Ram Navami procession on March 25.
Rebutting the charge, Hussain said his party did not believe in differentiating between people on the basis of religion. "We do not believe in minority or majority. For us they are all same," he said.
The delegation said it was in fact the TMC government, which was being "biased" and extending "help only to Muslims since the riots took place".
"The situation is extremely volatile. Law and order has collapsed. The state government is not extending any help or protection to the Hindu population," Ganguly said.
Hitting back at the BJP, TMC secretary general and state education minister Partha Chatterjee said: "Who will this team of MPs report to? It won't report to the NDA government. It will report a political party. This itself make their visit politically motivated and a farce."
Congress, CPI(M)'s attack BJP
The police contingent's failure to stop the BJP convoy from entering Asansol drew sharp reaction from the Congress and Communist Party of India (Marxist), whose leaders were not allowed to visit the area on Saturday.
"We are saying it for long that Trinamool and BJP are playing a stage-managed game in Bengal with the common agenda of destroying the Congress and the Left parties," Congress MLA and leader of Opposition in the state assembly, Abdul Mannan, said.
On Saturday, a Congress delegation led by state Congress chief Adhir Chowdhury was barred from entering Asansol while CPI(M) leader Sujan Chakraborty was stopped by police from going to Raniganj.
"Trinamool and BJP are playing a fixed match in Bengal. It's crystal clear," Chakraborty said.
Chatterjee, however, said the BJP team had forcibly entered the areas where prohibitory orders were clamped down.
Asansol Durgapur police commissioner LN Meena said legal action would be taken against the BJP leaders for violating prohibitory orders but he refused to share the details of the action the administration would seek.
Close