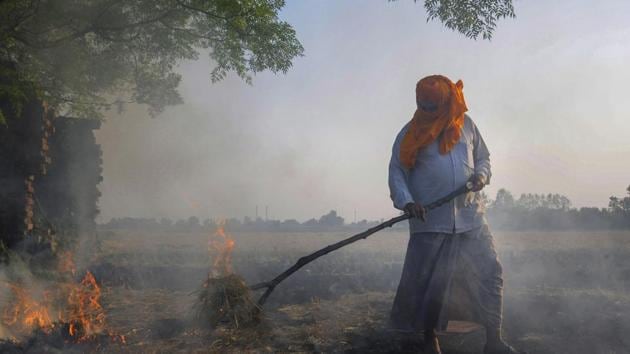 Delhi air quality deteriorates as crop burning begins; haze envelopes Mumbai
Air Quality Index (AQI) in Delhi on Saturday afternoon was 300, which is considered poor.
New Delhi | By HT Correspondent
UPDATED ON OCT 13, 2018 09:08 PM IST
The air quality in Delhi and the National Capital Region (NCR) deteriorated to hazardous levels due to stubble burning in the neighbouring states of Punjab and Haryana in the last few days.
According to the System of Air Quality and Weather Forecasting and Research (SAFAR), the Air Quality Index (AQI) in Delhi on Saturday afternoon was 300, news agency PTI reported.
An AQI between the range of 51 to 100 is considered as satisfactory, 101-200 is moderate, 201-300 comes under the poor category, whereas 401-500 range is severe.
Adjoining Ghaziabad, Faridabad, Gurgaon and Noida also recorded 'very poor' air quality levels, the data by the Central Pollution Control Board showed.
The PM10 level (presence of particles with diameter less than 10 micrometres) in Delhi stood at 243 and the PM2.5 level was recorded at 122, according to the data.
Meanwhile, recent satellite images from the NASA have showed that the farmers in Punjab and Haryana have started burning crop residue earlier this month.
The NASA, on its official website, stated that burning crop residue in Punjab and Haryana has increased significantly over the past 10 days in and near Amritsar, Ambala, Karnal, Sirsa and Hisar.
Burning of paddy straw every year during October and November and wheat straw during April in Punjab and Haryana are the major contributors of air pollution in Delhi-NCR, as the smoke travels towards the national capital. In Delhi, it mixes with the fog and creates a toxic smoggy winter every year.
Doctors have warned that stubble burning would lead to respiratory diseases like tuberculosis.
"People must stay indoors and those who go out must wear N-95 masks," Ravi Wankhedkar president of Indian Medical Association said, according to ANI.
Delhi chief minister Arvind Kejriwal on Friday alleged that "no concrete action" has been taken by the Centre, governments of Haryana and Punjab on stubble burning despite Delhi pursuing the issue with them.
He expressed apprehension that as the winters were approaching the entire region, including Delhi, will again become the "gas chamber" and the people will face "difficulty in breathing".
Apart from Delhi, toxic air affected Mumbai too, with a haze enveloping the maximum city's skyline for the second day on Saturday.
Mumbai's AQI was 175, which is quite high according to its standards, and is expected to get worse.
Over the last few decades, scientists from around the world have been warning of rising atmospheric concentrations of greenhouse gases from the burning of fossil fuels. This, in turn, adversely affects the climate, leading to ocean acidity and the frequency of freak weather.
The latest report circulated on October 8 by the Intergovernmental Panel on Climate Change (IPCC) has predicted that if climatic change continues for next several years, then people will be at a greater risk of injury, disease and even death due to more intense heat waves and fires.
The climate change has also adversely affected the snow-laden peaks and landscapes of Himachal Pradesh. The untimely snowfall in Lahul Spiti which is at least 3000 metres above the sea level, has resulted in the loss of crops such as cabbage, apple, potatoes etc. This area usually receives a heavy snowfall between December and April.
(With agencies' inputs)
Close