Delhi Archbishop says his letter on threat to democracy not about Modi government
Updated on May 22, 2018 09:17 PM IST
Delhi Archbishop Anil Couto's letter, which asked Christians to fast every Friday "for the nation", has kicked up a storm. The Centre on Tuesday rejected his charge and said the Archbishop's comments reflected his "prejudiced" mindset.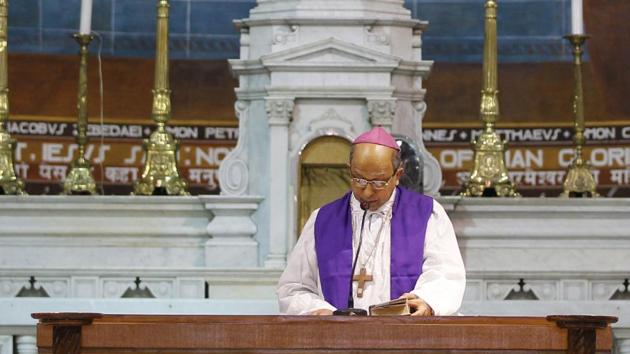 Delhi Archbishop Anil Couto clarified on Tuesday that his letter saying a "turbulent political atmosphere" was posing a threat to India's "democratic and secular fabric" was not about the Narendra Modi-led government.
Couto's letter, which also asked Christians to fast every Friday "for the nation", has kicked up a storm as the government rejected his charge by saying on Tuesday that his comments reflected his "prejudiced" mindset.
Couto had written a letter to all parish priests and religious institutions in the Delhi archdiocese a few days before the May 12 Karnataka elections, calling for a "prayer campaign" ahead of the 2019 general elections.
While Union Home Minister Rajnath Singh said India did not discriminate on the basis of religion or sect, his ministerial colleague Mukhtar Abbas Naqvi asked the archbishop to come out of his "prejudiced" mindset and asserted that minorities had progressed at a fast pace under the current government.
Couto's comments were criticised by the BJP, with party president Amit Shah stressing that it was "not appropriate" to polarise people around religion.
The archbishop later clarified his comments were not aimed at the government.
"What I said is, spend time once a week for our nation and especially because elections are coming and government concerns all of us. So it is not in any way pertaining to the government of Narendra Modi," Couto said when asked about the letter.
Union minister of tourism KJ Alphons said Couto's remarks were "unfair" to the government and that "godmen" should stay away from politics.
The archbishop, in his letter, said, "We are witnessing a turbulent political atmosphere, which poses threat to democratic principles enshrined in the Constitution and the secular fabric of our nation."
Referring to the 2019 general elections, Couto asked for a "prayer campaign" for the country from May 13 to mark a period significant for the Christian community.
"It is our hallowed practice to pray for our country and its political leaders all the time, but all the more when we approach the general elections. As we look forward towards 2019, when we will have a new government, let us begin a prayer campaign for our country from May 13," the letter read.
It also asked for organising a eucharistic adoration every Friday in all parishes and religious institutions, specifically to pray for the nation. The prayer format states: "May the ethos of true democracy envelop our elections with dignity and the flames of honest patriotism enkindle our political leaders."
It also seeks to "protect" legislatures as place of discerning minds, raising judiciary as the hallmark of integrity, prudence and justice and keeping print, visual and social media as the channels of truth for edifying discourses.
Reacting to Couto's comments, Naqvi said the Modi government had worked for "development without discrimination".
"The prime minister's commitment to development without discrimination should be seen. As long as you have a prejudiced mind, you cannot look at this progress," Naqvi said.
He claimed the safety and security of minorities had been strengthened under the government, while the home minister said India did not discriminate against anybody on the basis of religion or sect.
"All I can say is that India is a country where there is no discrimination against anyone on the basis of caste, sect or religion. Such a thing cannot be allowed," Singh said.
Speaking to reporters, Shah stressed that polarising people around religion was "not appropriate".
On Opposition leaders N Chandrababu Naidu and Mamata Banerjee supporting Couto, the BJP president said, "It is very obvious that our rivals will support such a statement. If somebody speaks about defeating us, it is natural that they will support him."
Minister Alphons said Couto's was an isolated voice.
"Spoke to Cardinal Gracias (Archbishop of Bombay Oswald Cardinal Gracias) and top bishops. They strongly agree with the Prime Minister. There are isolated voices who don't like the Prime Minister," he said.
Another Union Minister Giriraj Singh tweeted, "The church receives its orders from Italy and the dictate (fatwa) for support to the pseudo secular comes from Pakistan. The day is not far when Hindus will realise this and will give a befitting reply to those (voices)."
CPI(M) leader Sitaram Yechury said Couto was calling people for a prayer and saying that the values of the constitution of secular democracy had to be protected.
"His spokesperson has also said that the call for this annual prayer has always been given. For the minorities in India, the only guarantee they have is the Constitution that promises them equality," he said.
Amid reactions to his letter, Couto said every government that came to power should protect the rights and freedom of the people.
"Elections concern us. Therefore when we talk, we talk about the elections because the government concerns us. We cannot be apart from the government. We pray that we have such a government that cares for the freedom of the people, rights and welfare of the Christian of community," he said.
Father Robinson, secretary to Couto, said the letter was issued on May 8 and had already been read out at all the parishes.
"This is a two-week old letter. It invited people to pray for the elections, country and all the political leaders. There is nothing wrong in it," he said.
Close Story
Personalise your news feed. Follow trending topics