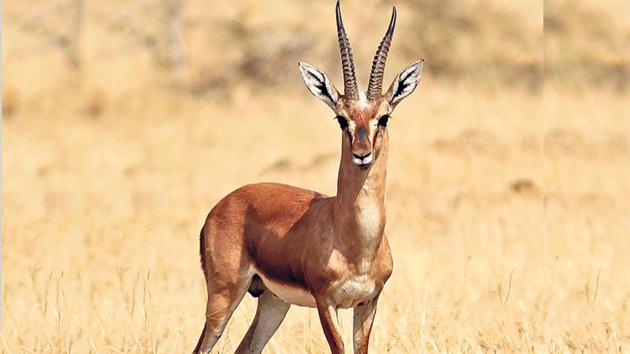 Demand for meat fuels chinkara poaching in Rajasthan
On paper, the chinkara is supposed to have the highest protection under the Wildlife Protection Act . But in reality, the endangered animal is easy meat for poachers in western Rajasthan.
UPDATED ON OCT 22, 2017 10:56 PM IST
The chinkara or the Indian gazelle continues to be poached in Rajasthan for meat mainly by the Bawariya community allegedly at the behest of wealthy at the behest of wealthy locals, mostly Rajputs.
A dozen of them have been hunted so far in 2017 in Bikaner district. Jodhpur and Jaisalmer each register about six to ten cases of chinkara poaching every year, according to data from wildlife department but activists allege that the actual numbers are twice or thrice than those reported.
The poaching goes on despite the chinkara's status as an endangered animal with highest protection under Schedule 1 of the Wildlife Protection Act, 1972.
Surprisingly, poaching is rampant in a region with a big population of Bishnoi community which zealously protects animals and trees and despite the Bishnois brutally assaulting the hunters when they are caught.
The poachers who usually hunt at night have resorted to other means of hunting as gunshots alert the villagers, says Rampal Bishnoi, a conservationist from Jodhpur. "They place a tape recorder playing the sound of a chinkara fawn in the forest area and hide nearby," says Rampal.
When the chinkaras come, the poachers emerge from hiding and strike at the legs of the animal with sticks, crippling one or two, who are then beaten to death. They quickly sever the legs and the head, dump them and flee with the animal's trunk.
"What the hunters do is that they bewilder the animal with the sound and take advantage of those few seconds of confusion. At times they use a battery-operated fan in a tin can to produce a whirring sound. When the chinkara comes near, they shine torchlight in its face that kind of stuns it. Another person comes from behind and attacks it," says Rampal.
The poachers are mostly from Bawariya community, a scheduled caste whose traditional occupation has been hunting. They have also traditionally served the Rajputs, the politically dominant caste in the state. The Bawariyas are usually very poor and live in thatched or one-room houses.
The Bishnois who resent the Rajputs and Bawariyas for being meat eaters, allege that the Bawariyas hunt at the behest of wealthy Rajputs who are fond of chinkara meat.
"There are times when five, ten or even 20 chinkara carcasses are recovered. Clearly, the Bawariyas are not doing it for their own consumption. They get as little as Rs 500 for a kill. It's in the big hotels and parties at farmhouses where the chinkara meat goes," says Mokhram Dharniya, a conservationist and president of Jeev Raksha Sanstha, Bikaner.
Sudeep Kaur, deputy conservator of forests, Indira Gandhi Nahar Project - Stage II, Jaisalmer, says that the number of cases of chinkara poaching goes up in winters when there is a tourist influx in the region.
The conviction rate in the cases of poaching is very poor. Dharniya, who has a list of all the poaching cases being contested in courts, says that out of nearly a hundred cases in Bikaner, there has been conviction in only one. There have been a couple of acquittals while the majority is pending in courts, he adds.
Raghuvir Singh Shekhawat, chief conservator of forests, Jodhpur, concedes that the conviction rate is poor.
"In case of animal death, getting evidence or witnesses is difficult. At times cases go on for long and witnesses turn hostile. In addition, the hunters get good lawyers to fight their cases," he says, adding that the department is training its staff on how to frame cases for a higher conviction rate.
Activists also say that poor Bawariya hunters getting top lawyers is proof enough that there are wealthy people behind the trade. "How else would a man who owns two pairs of clothes get the district's best lawyers to defend him," says Dharniya.
However, forest officials said requesting anonymity that at times Bishnois try to implicate others in poaching cases owing to personal rivalry. At other times, they create law and order situations, demanding extra-judicial action.
Close