Maneka Gandhi says govt will amend law to ensure death penalty for child rape
Updated on Apr 13, 2018 11:40 PM IST
Minister speaks about the rape and murder of an eight-year-old girl in Kathua, Jammu.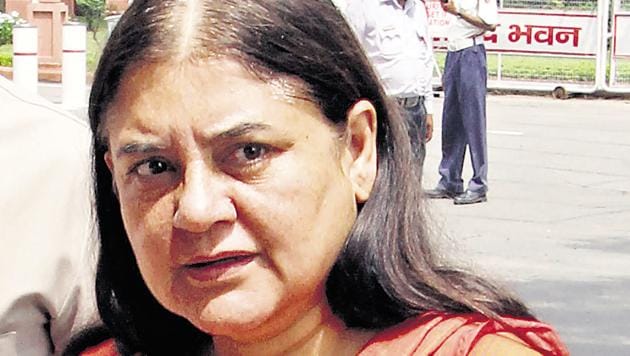 The Centre is planning to amend a law to ensure death penalty for those who rape children aged below 12 years as outrage continues to pour out over the recent rape cases of minors.
Union women and child development (WCD) minister Maneka Gandhi on Friday said she intends to bring the amendment in the Protection of Children from Sexual Offence (POCSO) Act, 2012.
Currently, the maximum punishment for aggravated sexual assault on minors under the POCSO Act is life imprisonment. The law came into force in 2012 and deals with sexual offences against those below 18 years.
"I am deeply disturbed by the rape case in Kathua and all the recent rape cases that have happened on children. I and the ministry intend to bring an amendment to the POCSO Act asking for death penalty for rape on children below 12 years," Gandhi said.
The minister was referring to the case of an eight-year-old girl in Kathua, Jammu & Kashmir, who had been abducted, confined to a temple and gang-raped in January by a group of men, including a juvenile, who wanted to dislodge the girl's Bakherwal community from the area.
WCD secretary Rakesh Srivastava said they will send the proposal seeking amendment to the law ministry soon. "We are in talks with the law ministry. Once they clear it, we will move the cabinet for approval," he said.
Recently, the Rajasthan government had approved a bill seeking death penalty for those convicted of raping girls under 12 years of age. Two other BJP ruled states — Madhya Pradesh and Haryana — have also given the go ahead for a similar proposal.
However, in February, Additional Solicitor General PS Narasimha told the Supreme Court, which was hearing a PIL filed by advocate Alakh Alok Srivastava seeking death penalty for child rapists, that "death penalty is not an answer to everything." Srivastava had filed the PIL seeking justice for an eight-month-old child who was raped.
Legal experts said that the government can prescribe death penalty for child rapist. "The Indian Penal Code prescribes death penalty for gang rape. If it can be prescribed for gang rape then it can be prescribed for child rapist also. A child under 12 is completely innocent and vulnerable and raping her is the rarest of rare crime and calls for strictest of punishment," said Supreme Court advocate Amit Anand Tiwari.
The WCD ministry had debated on seeking death penalty for rapists in 2013 also, following the public outcry over the gang rape and murder of a 21-year-old medical student in which an accused was a juvenile. But beyond discussions, nothing much happened.
The brutal crime triggered a nationwide demand for harsher punishment for offenders below the age of 18.
Cases of crime against children have been on the rise in the country. According to the National Crime Records Bureau, in 2016 (the latest period for which data is available), 93,344 cases of crime against children were registered across India.
Personalise your news feed. Follow trending topics